Veuve Clicquot champagne bar in Paris - a taste of luxury
published on 12/12/2013, dans Sezz Paris
Veuve Clicquot champagne bar in Paris
welcomes you at "La Grande Dame", the city's first bar of this famous champagne brand set up within the elegant
Hotel Sezz
. Enjoy some of the world's finest vintages and cuvees in this incredible bar designed by Christophe Pillet.
Veuve Clicquot champagne bar in Paris for your relaxation and pleasure
Founded in 1772 by
Philippe Clicquot
the motto of the brand 'one quality, the finest' is still the benchmark of the
Veuve Clicquot house
today. The brand was taken over in 1805 by his 27 year old widow
Barbe Nicole Ponsardin
, Madame Clicquot. In France, the title 'Veuve' was traditionally given to a widow, hence the name 'Veuve Clicquot'. The original 'grande dame' Madame Clicquot was a remarkable businesswoman and recorded the region's first ever vintage champagne. In 1816 Madame Clicquot was given the nickname, the Grande Dame of Champagne, also a reference to the region of France from which this fine wine originates. In 1972 to celebrate the bicentenary of the brand, and to honour Madame Clicquot, a
prestige cuvee, 'La Grande Dame'
was created. This fine champagne is characterised by its fine bubbles and sparkling effervescence. Treat yourself to a glass of one of the world's finest champagnes in the magical setting of
'La Grande Dame' bar
in the refined Hotel Sezz. Together, Shahé Kalaidjian the hotel's creator, and designer Christophe Pillet have created a bar appropriate to the fine Veuve Clicquot brand, named of course 'La Grande Dame'. The warm black, red and grey decor adds to the elegant ambience, and you may choose from an extensive selection of champagnes and cocktails, or enjoy a snack, or a bite to eat from our Japanese menu served in the bar till 10 p.m. For a decadent and indulgent start to your day, why not treat yourself to our full buffet breakfast, accompanied by sparkling Veuve Clicquot champagne?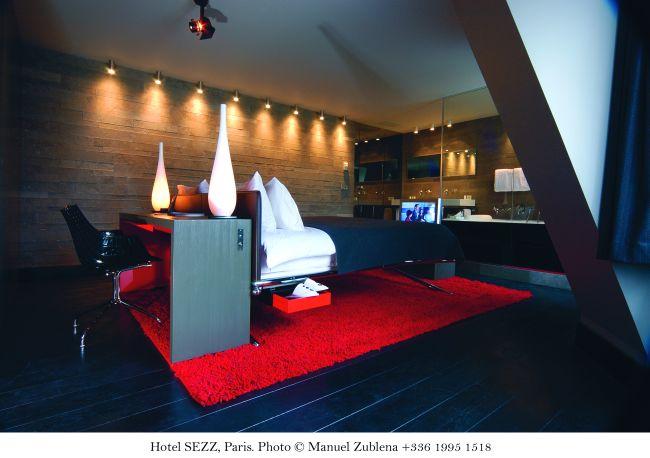 Indulge in Veuve Clicquot champagne bar in Paris in the glamorous Hotel Sezz
As well as being close to the Eiffel Tower, that other 'grande dame' of Paris, Hotel Sezz is conveniently located for many of the city's top attractions, all of which can be reached by taxi or metro in just a few minutes. Beautifully appointed throughout, our hotel is a rejuvenating oasis in the bustle of the city. Our friendly staffs are on hand at all times, to assist you with any aspect of your stay at Hotel Sezz, and to ensure that your 'Grande Dame' experience is beyond compare.
~oOo~