Trocadero hotel in Paris is the perfect choice for any trip
published on 21/05/2014, dans Sezz Paris
Trocadero hotel in Paris
is an elegant base from which to explore.
Hotel Sezz
is just a short walk from the Chaillot Hill and the beautiful Trocadero area, where the Palais de Chaillot, extensive gardens, a theatre and an underground aquarium are among the attractions.
Trocadero hotel in Paris is ideally placed for some of the city's most interesting sights and attractions
The Trocadero area in the 16th arrondissement is just across the River Seine from the Eiffel Tower, and is just a 10 minute walk from Hotel Sezz. Perfect for relaxing strolls, the beautiful grassy lawns and spectacular fountains of the Trocadero Gardens are a delight.
The whole family will love visiting the Palais de Chaillot considered one of the finest examples of the period's architecture in Paris. It dates from the 1930's and was built to replace the Palais du Trocadero.
Interestingly, Palais de Chaillot was the first home of NATO, while an iconic 1940 photograph of Adolf Hitler on the front terrace with the Eiffel Tower in the background became a symbol of World War II.
Musée National de la Marine in the Passy wing of Palais de Chaillot is ideal for dad, who is sure to enjoy seeing Napoleon I's rowing boat. Cité de l'Architecture et du Patrimoine in the Paris wing is the world's biggest centre for architecture and includes the Musée National des Monuments Français.
You can also gain access to the Theatre National de Chaillot from the Paris wing, and Director Didier Deschamps and his team have put together a thrilling programme of music, theatre and dance for the 2014 season.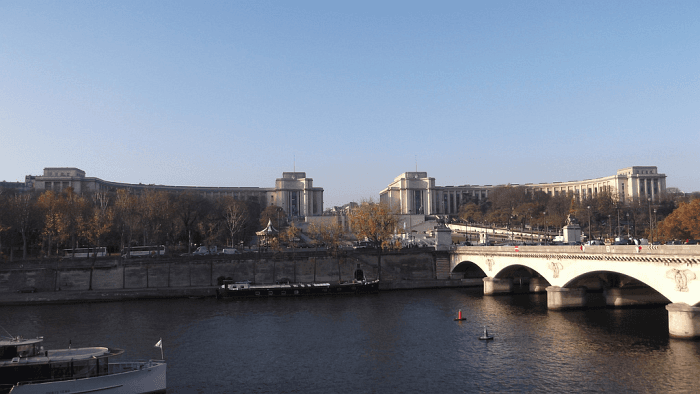 Chaillot palace, right bank of the Seine - flickr cc - Photographer Michel Petit
Hotel Sezz, the most stylish and inviting Trocadero hotel in Paris
Hotel Sezz is a luxury boutique hotel where elegant furnishings and interiors combine to create a chic haven that is just minutes by taxi from any part of Paris. Relax with a glass of vintage champagne in our sophisticated Bar la Grande Dame, or enjoy a revitalising treatment in Spa Sezz by Payot after your visit to Trocadero. Our friendly team will act as your personal assistants, ensuring you of complete satisfaction during your stay at Sezz, Paris.
~oOo~
Featured image copyright holder : Tourist office Paris - Photographer Stephane Querbes