Trocadero , a quiet area to discover Paris
published on 02/03/2013, dans Sezz Paris
Trocadero
: the
Hotel Sezz Paris
is ideally located near the landmark, allowing you to discover the capital while enjoying the peace and tranquility of this quiet area during your holidays.
Trocadero , a haven in the French capital
Situated in the heart of the 16th arrondissement of Paris, the Trocadero provides visitors with the most incredible view of the Eiffel Tower. Giving in to this beautiful invitation to relax and take in the amazing landscape, you can wander in its garden for hours and daydream by the ornamental lake at any time of the year. Although the site itself is quite popular and is often buzzing with tourists, the area is very pleasant and quiet, especially when you stay at the Hotel Sezz Paris.
Trocadero , perfect location to visit Paris
In addition to admiring the Eiffel Tower from afar and indulging in relaxing hours in the garden, you can also visit some very interesting places in the area, including the Palais Chaillot and its museums. Depending on your cultural preferences, you will enjoy the Musée de l'Homme, the Marine Museum or the City of Architecture and Heritage. For an entertaining evening, the National Theatre of Chaillot is ideal, while you can bring children to Cinéaqua, the famous subterranean aquarium offering visitors a huge space to discover the wonders of the sea.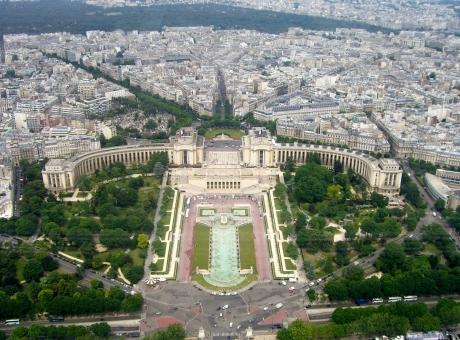 Hotel Sezz Paris, a lovely hotel near the Trocadero
Within walking distance from the famous area, the Hotel Sezz Paris exudes elegance and comfort. Welcoming you in an intimate environment of sheer tranquility, we pride ourselves on the quality of our service, making you feel at home in the warm, refined atmosphere we created for you. In addition to showcasing our unique take on luxury, the hotel is surrounded by beautiful sites such as the Eiffel Tower but it is also very close to the metro, with two lines that connect you with the whole capital.