Tour de France arrival in Paris; You can be there!
published on 24/06/2014, dans Sezz Paris
Tour de France arrival in Paris
is one of the most magical moments in the sporting calendar, and you can be there to witness it as a guest of the design
Hotel Sezz Paris
. July 27th is the key date. This will be when the 2014 edition of the world's most famous and challenging multi stage bicycle race reaches its grand climax on the streets of our city.
Experience the glorious atmosphere of the Tour de France
The Tour de France was created in 1903 in an effort to boost the declining sales of a recently launched sports newspaper called L'Auto. That first event, won by Maurice Garin, created astonishment at the powers of endurance possessed by the competitors, and the French people took the event to their hearts. Only the two world wars put a temporary stop to the annual race. The modern resurgence of interest in cycling has helped to ensure that the Tour de France remains one of the world's great sporting events in the 21st century.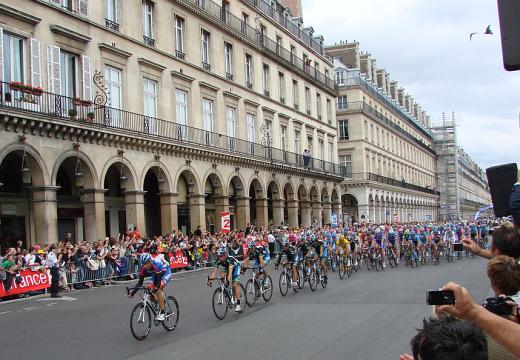 Tour de France 2007 nearby Tuileries gardens - Photographer Allie Caulfield - flickr.com
The 2014 event takes place from Saturday July 5th to Sunday July 27th and will cover a distance of 3,656 kilometres. The first stage begins in Yorkshire, from Leeds to Harrogate and the 21st, and final stage of the 23 day race will cover the 137.5 kilometres from Evry to the Champs Elysees, where the finish has been held since 1975. The riders, close to the limits of their endurance, will be boosted by the roars of the crowd as they pass the Louvre and the Arc de Triomphe before tackling the last push along the world's most famous avenue and a rendezvous with sporting history.
******
Tour de France arrival
on the Champs Elysées : July 27th, 2014 Access : Charles de Gaulle Etoile station, metro lines 1, 2, 6 and RER A - Georges V station, metro line 1
~oOo~
Featured picture "Tour de France cycliste 2012 sur les Champs Elysées" copyright holder : Photographer GSH1970 - flickr.com CC BY 2.0