The Sezz Hotel, an enchanting setting for lovers
published on 12/11/2014, dans Sezz Paris
Located in the heart of Paris,
Hotel Sezz
is dedicated to the happiness of guests who want to celebrate their love in an unforgettable setting that will leave an indelible romantic impression. High quality services and a highly personalised experience, stylish contemporary decor, spacious rooms and suites; the Sezz is a seductive setting for
lovers
.
Customised high-end services enhance your well-being
The Sezz offers a warm welcome to all couples planning a romantic escape in an exquisite setting. The intimate atmosphere of our hotel is particularly suited to guests spending their wedding night, honeymoon or anniversary with us, or for impromptu romantic getaways. The Sezz has all that you could wish for to make your stay sublime and delightful.
Imagine if you will… a chauffeured limousine collects you on your arrival in Paris and whisks you through the city streets to your hotel. Your room is fully prepared with rose petals scattered on the pillows, a chilled bottle of Veuve Clicquot champagne and delicious macaroons to nibble with your loved one. Why not book a couple's session at the hotel's Spa by Payot for a pleasurable interlude before dinner? Your Personal Assistant will recommend the best table and menu selections depending on your preferences. Return to your room, close your door on the world, and enjoy a night together with sensual Wanderlust cabinet rouges products – no other hotel understands passion quite like the Sezz.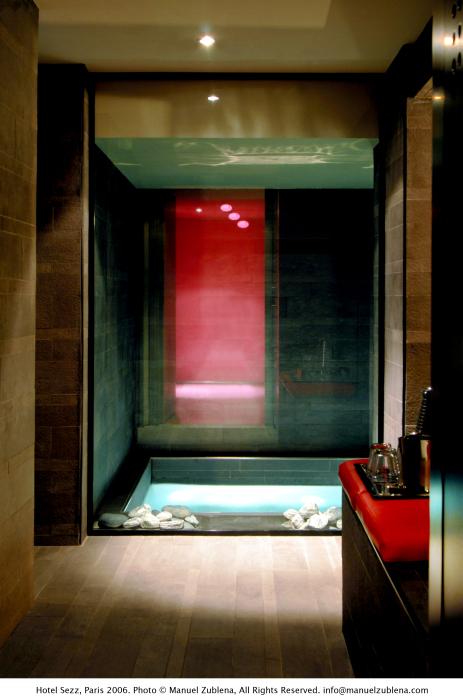 Hotel Sezz Spa - Photographer Manuel Zublena
Every detail has been designed for you to experience an exceptional stay at Sezz. The rooms and suites are luxurious cocoons, with elegant bathrooms that offer exceptional space for relaxation. Indulge yourself with the subtle scents of enchanting Acqua di Parma products in our unique bathtubs for two before emerging wrapped in the hotel's thick, fluffy bathrobes.
Quality, complicity and privacy guaranteed at Sezz Paris
At the Sezz Hotel, we strive to offer our guests the romantic stay that is their heart's desire, and we will endeavour to meet all of your requirements with complete confidentiality.
~oOo~