The Sezz Candle, A creation by Francis Kurkdjian
published on 05/07/2014, dans Sezz Paris
The Sezz Candle, a creation by Francis Kurkdjian
, gives the
Hotel Sezz Paris
its very own olfactory atmosphere. From the moment you set foot within the four star luxury of our boutique hotel you will be swept along on a fragrant tide, subtle yet distinctive, the perfect complement to the contemporary design experience our elegant establishment offers.
The aromatic art of Francis Kurkdjian
The fragrances created by the French-Armenian perfumer, Francis Kurkdjian appeal to a modern sensibility while evoking past ages. Thus we feel that the scent of his Sezz Candle is ideally suited to the ambience we have established at the Hotel Sezz.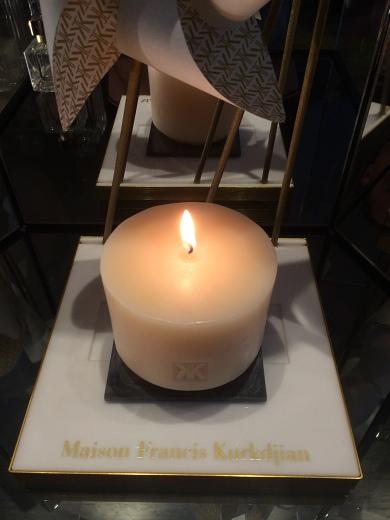 The Sezz Candle, a creation by francis kurkdjian
Francis Kurkdjian graduated from ISIPCA Versailles, the international school of perfumery in 1993. In the 90s he created Le Male for Jean Paul Gaultier, which became one of the most popular mens' fragrances in the world. He has gone on to design perfumes for such brands as Dior, Elizabeth Arden, Giorgio Armani, Versace and Yves Saint Laurent. In 2008 he was appointed to the rank of Chevalier of Arts and Letters, an honour indeed.
Francis opened his own bespoke fragrances atelier in 2001. He has deliberately and enthusiastically revived the tradition of the 18th century travelling perfumer by taking what is effectively a mobile laboratory containing an assortment of essences with him as he travels the world to meet his clients, bestowing his astonishing creativity upon the world as he has bestowed it upon the Hotel Sezz.
We are delighted to share the talent of Francis Kurkdjian with our guests. Subtle scents of ambroxan and woody amber merge at the Hotel Sezz Paris, while the evocative fragrance of fenugreek and l'immortelle blend at the Hotel Sezz Saint Tropez. Purchased from the hotels, these candles provide a unique keepsake of your stay with us.
******
Maison Francis Kurkdjian 5, rue d'Alger - 75001 Paris Metro Tuileries Tel : +33 (0)1 42 60 07 07 Opening hours Monday to Saturday 11:00am -1:30pm and 2:30pm - 7:00pm
Printemps Haussmann 64, boulevard Haussmann - 75009 Paris Tel : +33 (0)1 42 82 50 00
~oOo~