The French Open Roland Garros; the forecast is a rain of small yellow balls on Paris!
published on 06/05/2016, dans Sezz Paris
Enjoy a stay at the Sezz Paris while you attend one of the world's most exciting sporting events at the Stade Roland Garros. The French Open is the second Grand Slam tournament of the year and the only one that is played on clay, a surface that makes the game even more challenging. Whether you are a tennis aficionado or you just want to enjoy a great occasion, don't miss this highly anticipated event.
The most famous rendezvous in world tennis
The legendary French Open Roland Garros will take place from May 22nd to June 5th. As every year, the elite of the tennis world will meet for 15 days of high energy sporting action at the Porte d'Auteuil, on the occasion of this climactic tournament of the clay court season. Who will win the trophy this year? Among the men kicking up red dust on the Philippe Chatrier and Suzanne Lenglen courts, Rafael Nadal will be looking for a record-breaking tenth victory, but will be hard pressed by Rodger Federer and Novak Djokovic. Among the women there will be a mighty struggle between Serena Williams, fitter than ever, and the new generation spearheaded by Anna Ivanovic and Eugenie Bouchard. Also, don't forget that there will be some thrilling qualifying matches played from May 16th to 20th.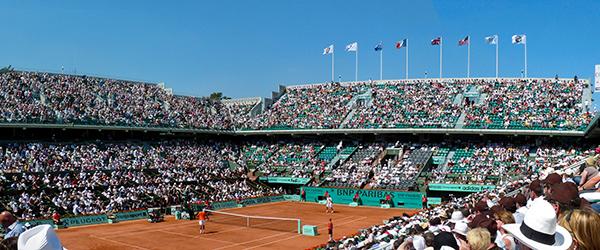 At the French Open the show also takes place in the stands
As every year, the courtside seats of this famous competition will feature a who's who of top stars drawn by their love of tennis to support their favourite players. Last year everyone was able to see the new couple Jean Dujardin and Nathalie Pechalat, as well as Patrick Bruel, Julien Doré, Hugh Grant, Owen Wilson, Bradley Cooper and many others who were noticed among the spectators. Some are there just for fun, while others like Miss France are required to put in an appearance...
Ideal location
If you choose the Sezz Paris for your French Open break, you'll be just 10 minutes by car or 40 minutes by public transport from all the action. And for the more energetic, a walk of only 45 minutes from the hotel brings you to the meeting place of champions. The choice is yours!
---
Sezz Paris, un hotel 5 étoiles luxe et design à Paris