The exceptional bathrooms of the Hotel Sezz Paris
published on 16/02/2015, dans Sezz Paris
At Hotel Sezz Paris - "Amazing", "lovely", "impressive", "huge", "setting the highest of standards". These are just a few of the extremely favourable comments posted by guests of the Hotel Sezz Paris. Unanimous and overwhelmingly positive, they leave no room for doubt: our bathrooms are truly exceptional, thoughtfully designed and impressively spacious.
The comfort of space
Our designer, Christophe Pillet, focused particular attention on the development of our rooms and suites, infusing them with an understated elegance. However, it is clear that the same attention has been brought to bear on our bathrooms; essential spaces of relaxation and well-being. A spacious bathroom is synonymous with comfort. Who wants to be bumping their elbows and stubbing their toes with the slightest movement? That's certainly not a problem here, where you can find total relaxation of both body and mind. Separated from the bedroom by a glass wall, or a wall whose smoky grey is reminiscent of slate, our bathrooms are supremely well-appointed. Our Junior Suites boast, in the words of one of our guests, "huge and very pleasant bathtubs". Our Deluxe rooms are equipped with "Japanese style" baths, and our Suites have a bath and a shower. Specially designed for inseparable lovers, our Eiffel Loft and Eiffel Suite offer the alluring appeal of very romantic double bathtubs, which are greatly appreciated by our guests.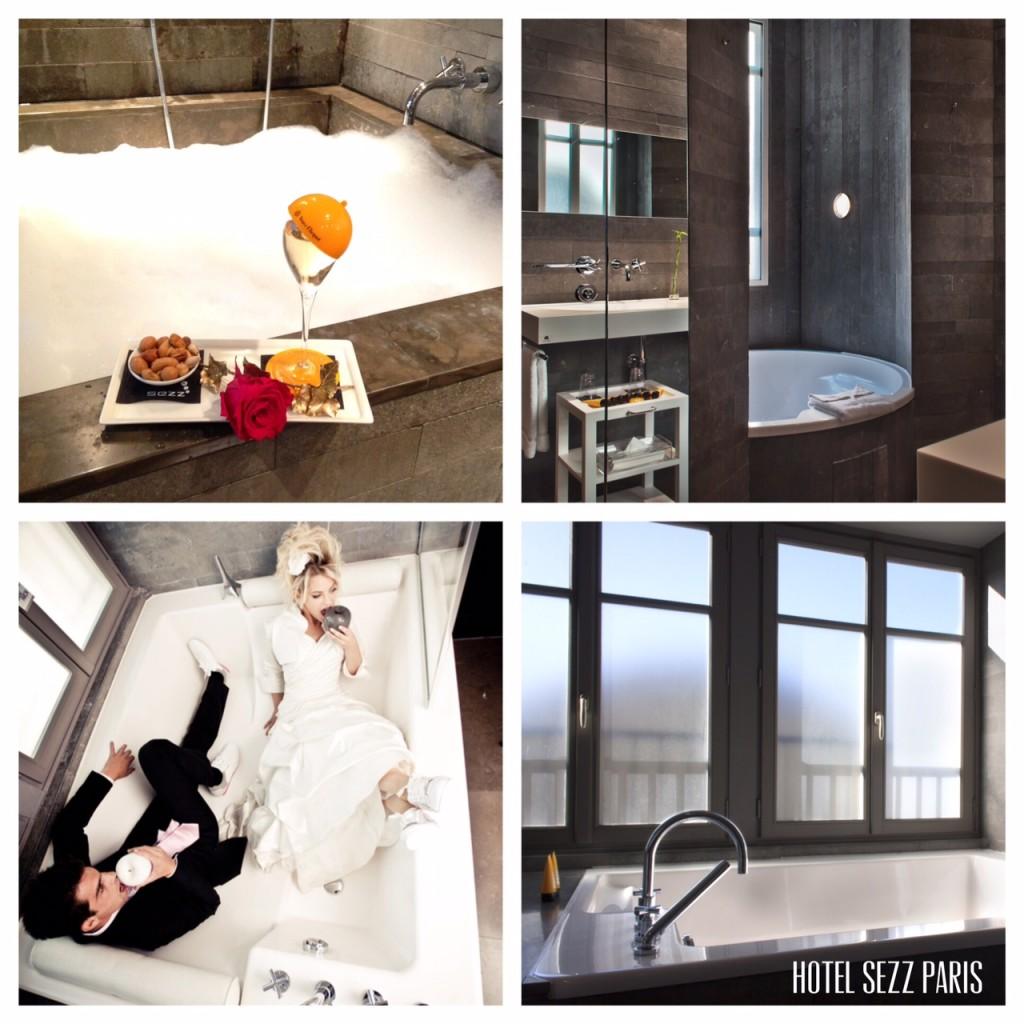 In the heart of pampering
To ensure that, on your return from a busy Parisian day, the bath or shower will be a true haven, Acqua di Parma products are at your disposal, alongside thick towels, soft bathrobes and comfortable slippers. Then, fully rejuvenated, you can start the evening at the bar of the hotel Sezz Paris, a flute of champagne in hand.
Hotel Sezz Paris, a luxury and design hotel near the Eiffel Tower
Photos @ David Emmanuel Cohen