Sezz Paris in collaboration with designer Christophe Pillet
published on 21/09/2014, dans Sezz Paris
Elegant, simple lines, and variations on a colour theme - the
Hotel Sezz Paris
Hotel welcomes you to a contemporary world inspired by the City of Lights and designed by
Christophe Pillet
, talented world-renowned designer.
Christophe Pillet - French elegance from New York to Tokyo
Christophe Pillet was born in Saint Raphael in 1959. He joined the School of Decorative Arts in Nice and graduated in spring 1985, and went on to the Domus Academy in Milan the following year. It was in Italy that he put his signature to his first creations, before joining the team of Phillipe Starck, a collaboration that lasted several years. In 1993, Christophe Pillet opened his own agency, and while working abroad was named 1994's 'Designer of the Year'. He likes to create from scratch and oversees each step of a project, and is known for his sensitive use of light and natural material. In 2005, at the request of Shahé Kalaidjian, creator and director Sezz hotels, Christophe Pillet designed the Sezz Paris.
Sezz Paris, an intimate setting in the heart of the city
In total agreement with Shahé Kalaidjian, Christophe Pillet considered the Sezz Paris not as a hotel in the popular Parisian style, but as an intimate and authentic setting, where elegance and simplicity are essential. A place in the heart of the city, yet far from urban pressures, and a place to have fun and indulge in pleasures one may not have time for at home. This was the basis of Christophe Pillet's design for the Sezz Paris.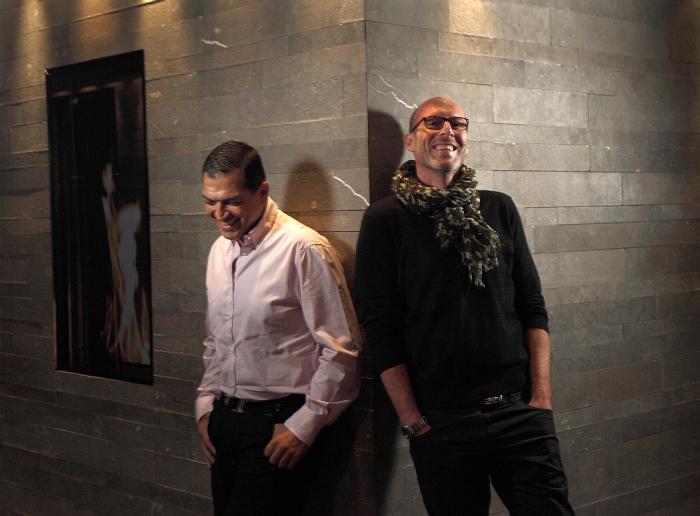 Shahé Kalaidjian, Creator and Sezz hotels managing director, and Designer Christophe Pillet
Neutral walls, subtle lighting and the choice of grey Cascais stone and anthracite hues are reminiscent of the changing shades of the grey buildings and rooftops of the capital. The rounded chairs, bright colours, contemporary works of art and photographs that adorn the walls and the subtle scents of candles by Francis Kurkdjian soften the intensity of the grey and evoke the many facets of Paris.
A unique combination of aesthetics and functionality, Christophe Pillet has maximised every space and paid exceptional attention to detail. Rooms and suites offer a warm and cosy atmosphere, conducive to total well-being. The hotel also features a cosy lounge, bar La Grande Dame, where you can bask in the natural light thanks to its high glass roof, and an exclusive Spa that is designed to perfection.
Guests of Hotel Sezz Paris will appreciate the many talents of Christophe Pillet in rooms that are chic yet comfortable and in all spaces that are impressive and inviting.
~oOo~