Sezz Paris, an original and design hotel for your events
published on 20/01/2015, dans Sezz Paris
Conveniently located just steps from the Eiffel Tower, the
Sezz Paris
is a boutique, design hotel, offering upscale services that will delight even the most discerning guest. Open since 2005, this star hotel owes its
originality to innovative design
that aims to create the ultimate luxury hotel.
A unique luxury hotel
Sezz Paris offers a refined setting characterised by beauty and harmony and an exceptional environment. The Sezz invites you to discover a novel approach to luxury and highly personalised service through service designed to make you feel at home and based entirely on exclusivity and well-being. A Personal Assistant supports you from arrival until the moment you leave, and takes care of special requests such as reservations at the latest trendy restaurant or a car to complement your evening. Your assistant is one hand to meet your every need, and will make your business or leisure stay unforgettable.
Design, authenticity and confidentiality Sezz Paris
The 26 room Hotel Sezz Paris combines elegance, contemporary design and the latest technology, and it gave birth to a new concept of a space where authenticity is king. The hotel favours natural materials, clean, contemporary furnishings, bright colours that have been specially selected to enhance the décor and natural materials and exude a Zen like atmosphere of privacy and joie de vivre. This luxurious hotel is the creation of Shahé Kalaidjian in association with talented interior designer Christophe Pillet, and the Sezz is proud to be a member of the Design Hotels™ community since 1993. This prestigious award is given to luxury hotels that stand out for their originality, passion and commitment to hospitality and quality.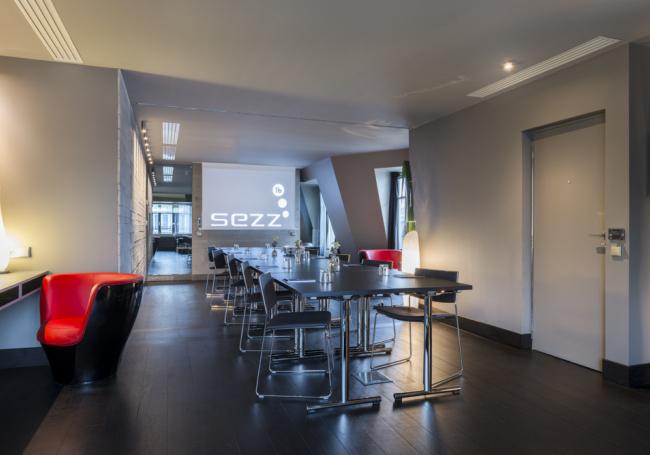 Sezz hotel - Meeting space
Sezz Paris, a privileged space for events
Enhance the image of your company by staging events in an original design hotel such as Sezz Paris, where the modular 50 m2 Eiffel Suite can accommodate up to 25 people. Our bar La Grande Dame by Veuve Clicquot and a small adjoining room can both be privatised and the hotel now offers a comprehensive package to meet your needs for seminars, meetings and other events. Sezz Paris exudes a strong personality that is conducive to creativity, and which adds another dimension to your event by giving your colleagues a contemporary and dynamic vision of your business.
---
Sezz Paris, a luxury and design hotel near the Eiffel Tower