Sezz Paris, a haven of pleasure in the heart of Paris
published on 20/05/2015, dans Sezz Paris
With their subtle arrangement of natural stone and reflective surfaces, the
Deluxe rooms
of the Hotel
Sezz Paris
 , born of the talents of
Shahé Kalaidjian
and
Christophe Pillet
, set the tone. Everything here attests to the application of chic design, taste and refinement. Close to the Eiffel Tower, the Sezz Paris offers you a unique and novel experience and an atmosphere of relaxation, surprise and wonder.
The play of light; transparency and translucency blended
Our six Deluxe rooms are each centred about a Kingsize bed. The Deluxe rooms are separated from their bathrooms by a smoked glass wall partially concealing and partially revealing a bathtub designed in "Japanese style". This is a welcoming place of relaxation, reflecting the customs of Japan, where the ritual of bathing takes place according to an age-old tradition. Enjoy a unique experience in a bathroom that is an irresistible invitation to peace and well-being. The shower and bath space fits here as in a beautiful transparent shell, where the gentle play of light adds to the overall mood. The light from the large windows of the Deluxe Rooms passes through the transparent and translucent walls of the bathrooms, reflecting the view of the sky, the Seine or the beautiful avenue Frémiet. The spacious bathrooms have bathsof a size suitable for 2 people, and XXL mirrors on the doors.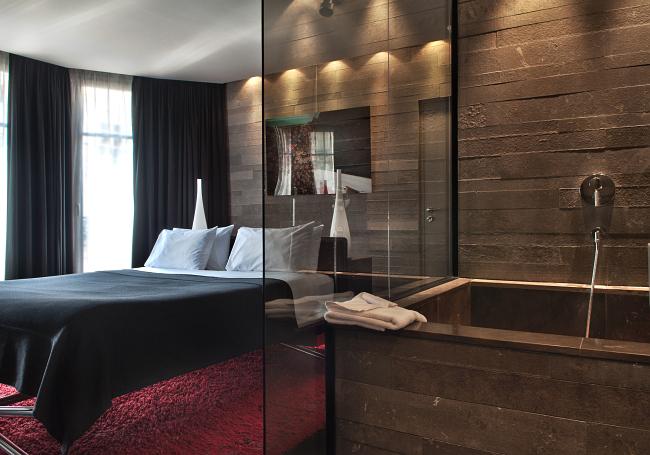 Sezz Paris , meeting of elegance, subtlety and luxury
The Deluxe Rooms have walls adorned withcool and beautiful Cascais stone, a natural material that is superbly enhanced by the plentiful play of light, surrounding a central bed which stands upon richly dark wood flooring. The flat screen TV and the sleek furniture, fruit of the imagination of the designer, are carefully arranged to complement the luxurious impression of space. The centre of the room thereby becomes the focus; an inviting and intimate cocoon in which one feels immediately at ease and utterly comfortable. Studied, measured and artfully placed lighting, subtle hints of colour here and there, contemporary furniture concepts, beautiful carpets, elegant curtains... each Deluxe Room is different, yet each offers the same level of refinement and timeless appeal.
******
More informations
---
Sezz Paris, a luxury and design hotel near the Eiffel Tower