Roland Garros tennis tournament in 2014
published on 10/05/2014, dans Sezz Paris
Roland Garros tennis tournament in 2014
is one of the year's most thrilling events, and crowds flock to see top international players as they battle for supremacy on the iconic red clay courts. This year's tournament will take place from May 25th to June 8th, so book your stay at
Hotel Sezz
, the fitting complement to this stellar sporting fixture.
Roland Garros tennis tournament in 2014 is one of most anticipated sporting events in Paris
The French Open is one of four major Grand Slam tournaments in the world, and is commonly referred to as the Roland Garros after the famous stadium in which it is played. As well as being one of the most exciting sporting fixtures in Paris, the tournament is the world's premiere clay court tennis championship.
Although the current venue was only built in 1928, the French Open tournament dates back to 1891. Over the years the championship has been the stage for some of the most important and exciting moments in international tennis.
Last year's tournament was one of the most spectacular. Rafael Nadal won his 8th Roland Garros, and Serena Williams ended an astounding 11 years of bad luck in France to take the women's title and her 16th Grand Slam.
2014 promises to be just as thrilling, so why not get into the spirit of the game with a trip to the French Tennis Federation Museum at Roland Garros? The museum has a terrific permanent exhibition that was restructured in 2012, as well as a host of themed exhibitions throughout the year. Tennis fans of all ages are certain to enjoy visiting as a prelude to the French Open 2014.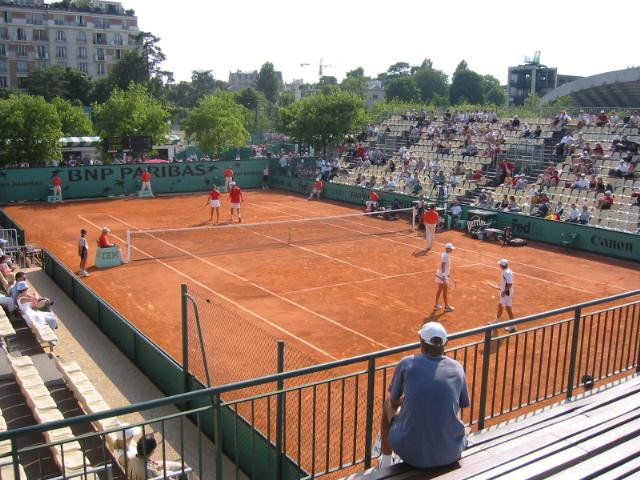 Qualification's match at Roland Garros 2008 - © Arnaud25 - Wikimedia CC
Roland Garros tennis tournament in 2014 is the perfect excuse for a stay at Hotel Sezz
The refined interiors and elegant lines of Hotel Sezz Paris provide the perfect backdrop to the 2014 Roland Garros tennis tournament. At Sezz Paris you'll be just minutes from the stadium by taxi or metro, and our glamorous bar La Grande Dame is the ideal spot to enjoy a celebratory glass of champagne at the close of the French Open 2014.
~oOo~