Roland Garros Set To Host Top Names in Tennis
published on 17/04/2013, dans Sezz Paris
Roland Garros
stadium welcomes the top names in international tennis to Paris from the 21st of May to the 19th of June for the prestigious French Open tennis tournament. Sure to be every bit as exceptional as in previous years, this is an event you won't want to miss.
Sezz Hotel Paris
is the perfect place to relax after spending exciting days watching the action on the iconic red clay courts.
Roland Garros Expect an Exciting Event
The French Open will take place at the stadium from May 21st till June 9th and looks set to be one of the most exciting sporting fixtures of the year. The French Open is a classic grand Slam event and it was famously the first major tennis tournament to become an 'Open' contest, which it has been now since 1968. Two times winner and reigning champion is the Spanish star Rafael Nadal, who has just recently equalled tennis icon Bjorn Borg's record for the number of events won, and he'll be looking to make the title his for a third time. The men's singles always attracts a lot of attention, and with the likes of Andy Murray and Roger Federer certain to want to stop Nadal from attaining his goal of three consecutive wins at the French Open, Paris is the place to be for the end of May and beginning of June.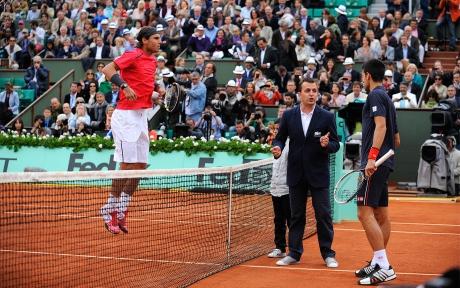 Sezz Hotel is the Ideal Choice for Roland Garros
A truly inspired choice for tennis fans, Hotel Sezz is just a quick 10 minute drive from the stadium and is a haven of style and comfort where you can enjoy a drink in the elegant Veuve Cliquot Bar or unwind with a steam bath in our Hammam. Our exclusive designer rooms featuring Cascais stone walls, deep pile rugs, executive swivel chairs, and free WiFi and flat screen tv allow you to keep up with all the tennis news. Our helpful staff are always happy to assist and hope to make your stay exceptional.