Roland Garros championship - Event Information
published on 05/05/2013, dans Sezz Paris
Roland Garros
will once again welcome visitors from all over the world and practical information regarding this major tennis tournament can heighten your experience. Combine your visit to Paris with a stay at the elegant
Hotel Sezz
where, as well as a daily shuttle service to and from the stadium, we'll endeavour to have all the details you need on hand.
Roland Garros is the gateway to much more
The French Open is one of the major tournaments in the tennis world and brings visitors from far and wide. You're certain to require refreshment between the exciting tennis, and catering facilities at the stadium are excellent. Choose from exciting options such as Les Jardins du Roland Garros, open all day, which boasts a fabulous selection of terrines, meats and fish, plus a sensational salad bar. Why not visit the Macaroons & Cocktails Bar, open from 10 a.m., and a favourite since its 2011 inauguration.
Taste the Ace Royal, a signature champagne cocktail, or the non-alcoholic Perrier based Ace in this stylish bar while you keep up with centre court action on plasma screens. There are several other options such as Les Terrasses, for everything from bagels and burgers to pizza, or L'Epicerie for sandwiches, wraps and more. Both can be found on the southern esplanade of Suzanne Lenglen Court, and there are numerous ice cream vendors, sandwich outlets and drink stands throughout the stadium.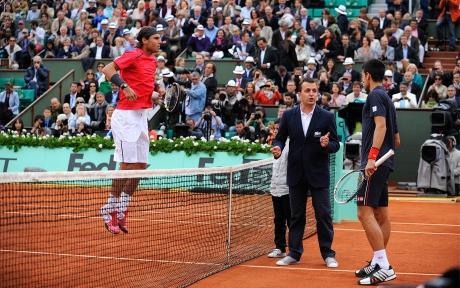 During breaks, why not visit the Tennis Museum? Admission is free and with exciting new exhibitions and a re-vamped look, it's a must for tennis fans. You can enjoy 'Roland Garros TV' on giant plasma screens throughout the day, ensuring that you're kept up with all the action as it happens.
Hotel Sezz for the Perfect Roland Garros Experience
Combine your trip to Roland Garros with a stay at the stylish Hotel Sezz just 10 minutes from the stadium. With a complimentary shuttle service to the stadium each morning and back to the hotel at the end of the day, it's ideal for a stylish and streamlined trip.
To ensure that you have all the practical information you may require at hand, our friendly staff are happy to assist with directions, queries and more. Relax in our elegant designer rooms, where free Wi-Fi and large screen plasma TV's ensure that you miss none of the exciting tennis from the French Open. Hotel Sezz is close to many other main Parisian attractions, as well as excellent entertainment and nightlife - everything you need to complete your tennis trip.