Pont de Bir Hakeim – a magnificent landmark near Sezz Paris
published on 21/08/2014, dans Sezz Paris
Summer is the perfect time to discover Paris, and at
Hotel Sezz
you're never too far from a unique and exciting landmark or attraction - such as the
Pont de Bir Hakeim
which links the elegant 15th and 16th arrondissements. Guests who are visiting for the next trade shows in Paris are sure to enjoy exploring the bridge and river on days off.
The Pont de Bir Hakeim is one of the most beautiful bridges across the River Seine, and is just a few steps from the hotel. Formerly known as the Passy Bridge, it was renamed in 1948 to commemorate the battle of Bir Hakeim. The Pont de Bir Hakeim is made from steel and was erected between 1903 and 1905, and this listed historical monument is one of many bridges that connect the right and left banks of the Seine.
The bridge is particularly appreciated for its fine architecture and has appeared in many films and music videos. Some of its most notable roles have been in 'Last Tango in Paris' with Marlon Brando, 'Inception' with Leonardo di Caprio, 'National Treasure: Book of Secrets' with Nicolas Cage and 'Peur sur la Ville' with Jean-Paul Belmondo.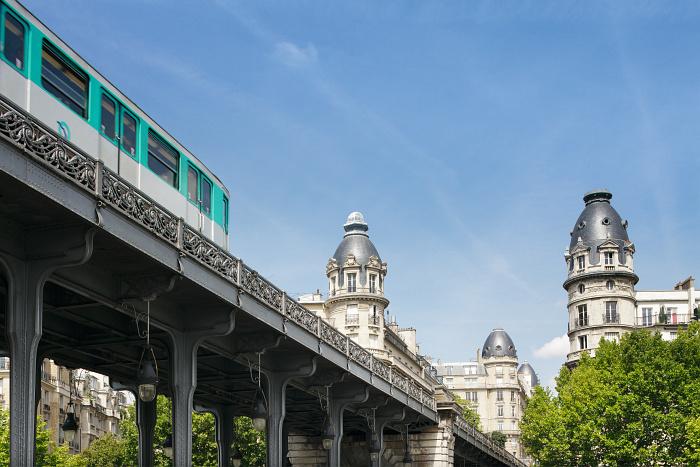 Pont Bir Hakeim Paris - Tourist Office Paris - Photographer Marc Bertrand
Hotel Sezz Paris pays homage to Pont de Bir Hakeim in our exhibition of contemporary art, where guests can see exclusive photographic work by Claudia Mojica Sorbac. The hotel is the ideal base from which to take in the bridge and other landmarks such as the Eiffel Tower, or to visit the exciting next trade shoes in Paris.
Plan your trip to the next trade shows in Paris
The next trade shows in Paris at Villepinte and Portes de Versailles are a must for professionals. See all that's new in interior design and furnishing at Maison & Objet from September 5th, or visit Première Vision, Expofil, Indigo and ModAmont which run in conjunction from September 16th for trends in textiles and fabrics. Be in the front row for shows at the Fashion Week, Ready to Wear Collections from September 23, and look out for news and articles on the Hotel Sezz blog for the thrilling Paris Motor which begins on October 4th.
~oOo~
Featured picture copyright holder : Photographer MBZT - Wikimedia commons