Paris west racetracks, close to the Hotel Sezz
published on 05/12/2014, dans Sezz Paris
For enthusiasts or novices, following a horse race is exciting. Feel the tension, thrills and euphoria as you bet on your favourite thoroughbred or worship and admire the elegance and power of the horses. Get into the vibrant and exciting rhythm of horse racing at three mythical western Paris
racetracks
which are easily accessible from the
Hotel Sezz
.
Obstacle course at Auteuil
Setting the global benchmark for horseracing over the jumps, Hippodrome d'Auteuil extends for 33 hectares south east of the Bois de Boulogne in the 16th arrondissement of Paris. Since 1873, this fine obstacle course has been internationally recognised for its hurdle and steeplechase tracks. The Grand Steeple Chase de Paris takes place each May, and you can reach the Hippodrome d'Auteuil in less than quarter of an hour by taxi from Hotel Sezz.
Afternoon chic at Longchamp
The most chic of all the Parisian racetracks is Longchamp which was built in 1857. It is located south-west of Bois de Boulogne and covers an area of 57 hectares – of which 17 are dedicated to its different tracks. It hosts forty-eight races each year, including one of the most prestigious championships in the thoroughbred world, the Qatar Prix de l'Arc de Triomphe. Longchamp racecourse is easily accessible from the hotel in just 20 minutes by taxi or public transport.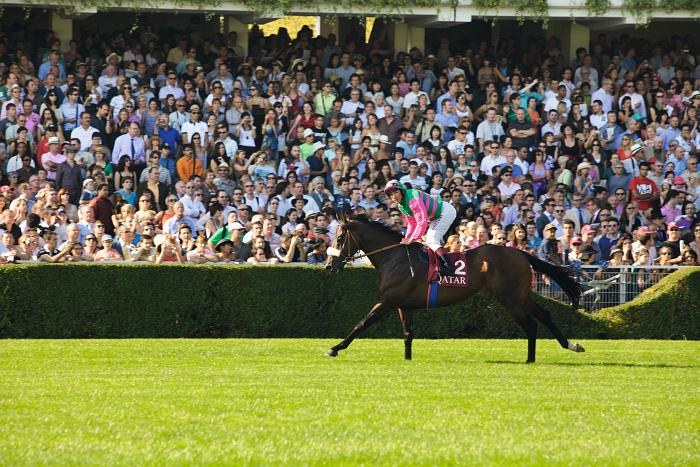 Longchamps Racetrack - Tourist Office Paris - Photographer Marc Bertrand
The Hippodrome de Saint-Cloud for flat racing fans
30 minutes by taxi from the hotel Sezz, and just to the north-west of the elegant Paris suburb of Saint-Cloud, the St. Cloud racetrack is entirely devoted to the gallop. Opened in 1901, it is the only Parisian course to run to the left. It hosts over thirty races annually, including the Grand Prix de Saint-Cloud and the Criterium de Saint-Cloud in October.
******
Racetracks :
Auteuil
, Route d'Auteuil aux Lacs - 75016 Paris Tel. 0033 (0)1 40 71 47 47
Longchamp
, 2 Route des Tribunes - 75016 Paris Tel. 0033 (0)1 44 30 75 00
Saint-Cloud
, 1 Rue du Camp Canadien - 92210 Saint-Cloud Tel. 0033 (0)1 01 47 71 69 26
~oOo~
Pictures copyright holder: Tourist Office Paris - Photographer Marc Bertrand