Paris Summer events to thrill and inspire
published on 05/07/2013, dans Sezz Paris
Paris summer
festivals and events show the city at its most magical and exciting. Enjoy Bastille Day celebrations, the arrival on the Champs Elysees of the 2013 Tour de France, and the beach party extravaganza that is Paris Plages from the elegant setting of
Hotel Sezz Paris
.
Paris summer is an exciting time for all ages
Paris during the summer months is a wonderful place to be, and the party atmosphere is enhanced by the many excellent festivals and events which the city does so well.
July 14th marks the most important of French national holidays, Bastille Day and there is nowhere quite like Paris for the celebration of the year. Take in the splendour of the military parade on the Champs Elysees and then join in the many communal meals, dances and parties before settling back to enjoy the magnificent firework display from the Trocadero, at the base of the Eiffel Tower.
Incidentally, the Eiffel Suite in Hotel Sezz looks out on the Eiffel Tower and, should you be lucky enough to book it for your stay, you will enjoy a real birds eye view of the thrilling display.
The Champs Elysees is once again the place to be when the 2013 Tour de France arrives in Paris. Be right there at the heart of the action on July 21st for what's certain to be a day to remember.
From July 20th till August 18th the banks of the River Seine are transformed into a fabulous beach resort, complete with palm trees, deck chairs and more. Relax and watch the world go by, or join in with a game of beach volleyball. With exciting games, exhibitions, music and events, Paris Plages is fun for all ages.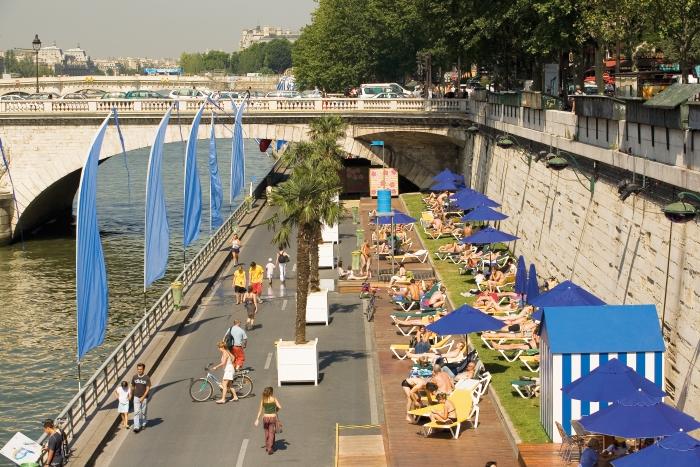 Enjoy Paris Summer from the luxurious setting of Hotel Sezz
Hotel Sezz is blessed with an outstanding location, within easy reach of all the summer events, as well as many of the most popular Parisian attractions. Relax in stylish, beautifully designed rooms, or restore body and mind in our exclusive Spa Sezz by Payot. Our friendly Personal Assistants are more than happy to oblige with directions, or with anything else that might make your stay at Hotel Sezz the highlight of your summer.