Paris Passy elegant district for shopping and events
published on 05/01/2014, dans Sezz Paris
Paris Passy elegant district
is a delight for discerning visitors to the city. From luxury shopping and top museums to first class sporting events such as the Roland Garros, you'll be in heaven. Enhance your stay even further by booking a stay at
Hotel Sezz
in the heart of this stylish district.
Paris Passy elegant district
The Hotel Sezz team wishes you a very happy new year for 2014,
... when we hope to welcome you to our elegant boutique hotel, the perfect place to discover
Parisian chic
.
Shopping in Paris is magnificent, and in the chic 16th arrondissment you'll be spoiled for choice. Browse the boutiques of Rue de Passy for designer clothing, children's clothing and designer pieces for the home. Why not visit the new Beaugrenelle shopping centre, just across the river from Passy? You'll find famous brands, a 10 screen cinema and a fabulous bar with panoramic views over the city.
Some of the city's most exciting museums are in Passy, including Musée Dapper, where you can enjoy a magnificent collection of ancient and contemporary African art. Musée Marmottan is a must for Monet fans, and you can see over 100 works by the famous impressionist. For those who prefer more contemporary lines, Fondation Le Corbusier is the place to discover the work of the acclaimed architect and designer.
Racing fans can visit the famous racecourses at Auteuil or Longchamp, where picnic areas, restaurants and play areas for children ensure that there's something for everyone. Tennis lovers will be ecstatic when they see the famous red clay courts at the Roland Garros stadium, and the Tenniseum is a great way to learn all about the sport through the ages.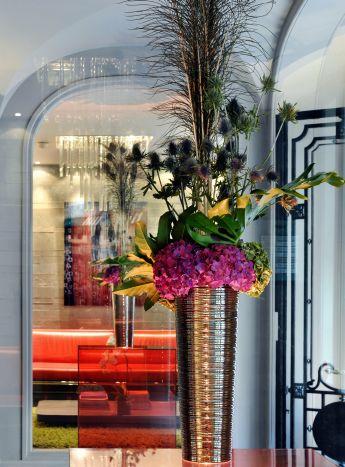 Hotel Sezz - a chic base from which to discover Paris Passy elegant district
Hotel Sezz is a glamorous and inviting design hotel, where you'll be perfectly situated to discover the delights of Paris Passy. Relax in beautifully appointed rooms where natural materials and fine designer furnishings envelope you in luxury, or enjoy a glass of champagne in our bar 'La Grande Dame'.
Our friendly staff are your personal assistants and will be delighted to make recommendations, or assist with any aspect of your stay at Hotel Sezz.
~oOo~