Paris Luxury Hotel Services tailored to your requirements
published on 27/06/2013, dans Sezz Paris
Paris luxury hotel services
are taken extremely seriously at the chic
Hotel Sezz Paris
, a 4 star designer boutique hotel close to the Eiffel Tower. Customer satisfaction is paramount, and is based on the wishes and needs of clients who return time and again to this elegant haven of calm in the heart of the capital.
Paris Luxury Hotel Services - Designed to enhance your stay
Customer satisfaction is the motto which defines the excellent service you will experience at Hotel Sezz Paris, where the well-being of guests is our primary objective. Our attentive staff embrace the role of 'Personal Assistant' so that every aspect of your stay can be anticipated, and we will be delighted to deal with any request.
Paris is a city where fun and luxury are part of the fabric of everyday life, and with this in mind Hotel Sezz offers exclusive packages such as Sezz'n Romance, Sezz'n Relax or Sezz'n Art allowing you to enjoy exceptional moments, perhaps using our private limousine service and making the most of our wonderful facilities, such as Bar La Grande Dame or Spa Sezz by Payot.
Your comfort and pleasure are foremost at Hotel Sezz Paris, and we are continually looking for ways in which we can evolve to enhance your stay. For example, we have recently upgraded our bathrooms, adding magnifying mirrors for the precise maquillage of the ladies, super-soft towels and a range of gracious Acqua di Parma™ toiletries.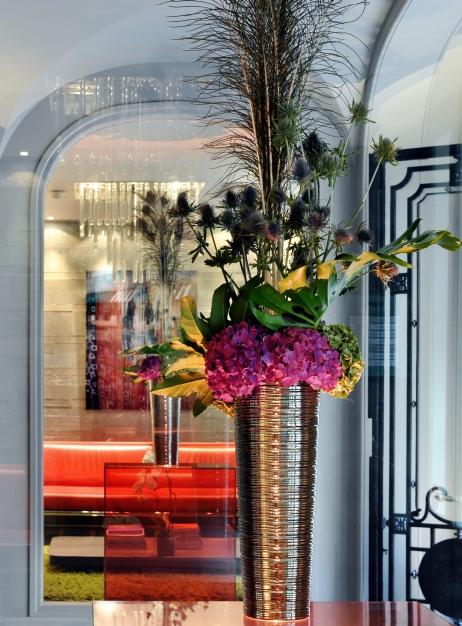 We have also installed magical mood lighting and new Nespresso™ machines in each room to aid relaxation and create a welcoming atmosphere. Start each day with our famous breakfast buffet. As well as a great selection of breads and pastries, you can choose from hot dishes, cold meats, cheeses, some really good jams and preserves, fresh fruit and juices. Of course, you may prefer a glass of champagne with Madeleines, which your Personal Assistant will gladly see to ?
Hotel Sezz is the epitome of Paris Luxury Hotel Service
Hotel Sezz Paris is an incomparable 4 star boutique hotel, and offers luxury service in elegant and refined rooms, beautifully styled with exquisite attention to detail. Located in the heart of the stylish Passy district with its designer shopping and prestigious museums, Hotel Sezz is also close to famous Parisian landmarks such as the Eiffel Tower and the Trocadero.