Paris Hotel for luxury events with that special touch
published on 05/04/2014, dans Sezz Paris
Paris Hotel for luxury events
offers interesting possibilities for the organisation of bespoke events.
Sezz hotel
with its contemporary setting designed by
Christophe Pillet
and its modular, privatised spaces is a perfect choice for exclusive and intimate business or private gatherings.
Paris Hotel for luxury events with an air of sophistication
Sezz Paris has a range of spaces where exceptional decor and fine furnishings allow you to convey just the right impression - perfect for inviting VIP customers, employees and journalists, or for receiving family and friends.
The first Veuve Clicquot champagne bar in Paris, La Grande Dame is bathed in natural light through a pretty glass roof, and is ideal for daytime meetings or after hours parties for up to 15 people. It offers an elegant setting where VIP clients can mingle, or friends can share a cocktail and sample caviar with our fine champagne. A fully equipped meeting room adjoins the bar and lobby, and is an excellent alternative for interviews or meetings of up to 8 people.
Guaranteed to have an impressive effect, the Eiffel Suite on the 6th floor of the Hotel Sezz Paris comprises a lounge and a bedroom, and can be used on a private and flexible basis for informal business meetings in a lounge atmosphere. The suite is particularly well suited to professional photo shoots or product presentations, and has an unrestricted view over the Eiffel Tower. You may elect to have the furniture removed from the bedroom for optimum use of the complete 70 m² for cocktail parties and larger gatherings.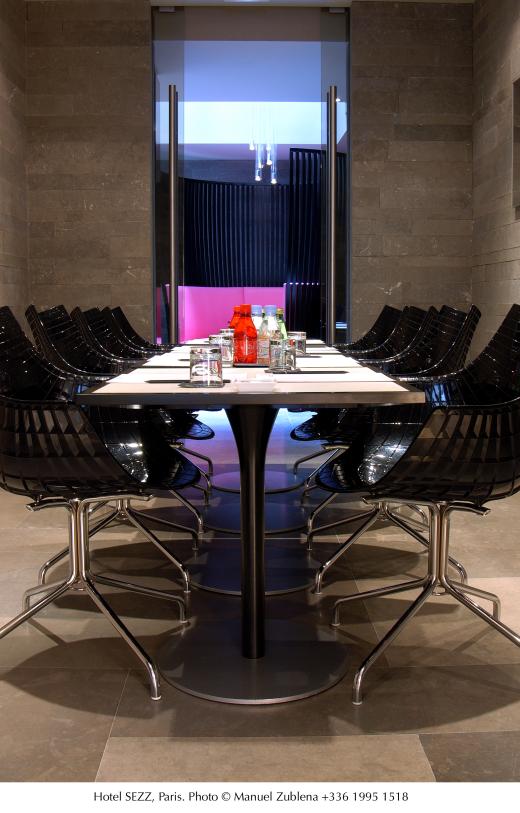 Hotel Sezz - the Paris Hotel for luxury events
A member of Design Hotels, the Sezz Paris boasts an excellent location close to all the major points of interest in the city. Rooms are furnished to the highest standard, and our exclusive spa and hammam provide relaxation at the end of a busy day. Should you require professional assistance, our Commercial Team will be delighted to organise your party, meeting or event. Our dedicated staff is committed to ensuring that your stay at Hotel Sezz is a professional and personal success.
~oOo~