Luxury Loft and Suite Eiffel of the stylish Sezz Hotel
published on 27/06/2014, dans Sezz Paris
The
luxury loft and suite Eiffel of the Sezz Hotel
are wonderful options for a stay in Paris. Many of the finest views of the city can be enjoyed from aloft, as you look across a skyline redolent with history and pulsing with excitement, beckoning you to explore. The Hotel Sezz Paris offers accommodation to fulfill your dreams in an elegant atmosphere conducive to relaxation, perfect for a romantic break for two or a holiday with your family.
Enjoy a bird's eye view of the City of Light
On the 6th floor of the Hotel Sezz Paris can be found the Eiffel Loft. This open plan space is both roomy and elegant, with a central bed, sofa and desk within its generous 452ft². From the sumptuous armchair in the relaxation area you can see the top of the Eiffel Tower. On the 7th and top floor of the hotel is located the Eiffel Suite. This 753ft² of space is divided equally into a lounge area and bedroom. From the carefully arranged armchairs you will enjoy a stunning view of Alexandre Gustave Eiffel's magnificent tower.
Gaze in wonder upon the zinc rooftops, shuttered windows and twinkling lights of Paris, here where the Seine begins to meander to the southwest. There is a uniformity of design that produces delightful patterns; a fascinating and gorgeous geometry dressed in greys, yellows, rusty browns and creamy whites. The angles and textures and lack of tall buildings to mar the skyline produce a deeply pleasing aesthetic effect which we at the Hotel Sezz Paris would delight in showing to you.
Now, from the enchanting rooftops of Paris we turn our gaze down to the streets, where an epic struggle is about to take place in the sporting world!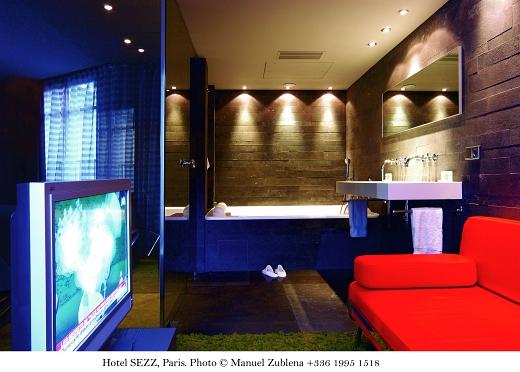 Bathroom of the Loft Eiffel of the Sezz Hotel
Tour de France arrival in Paris; You can be there!
The world's toughest cycle race reaches its final stage in Paris on Sunday, July 27th. The Tour de France begins in Leeds, England on July 5th and wanders the length and breadth of France, along country roads, through urban areas and up and down mountains in a breathtaking display of human endurance and fighting spirit. On the last day the competitors will be exhausted, mentally drained, pressing on through their indomitable willpower alone. The drama will be heightened by the electric atmosphere and you can be there in Paris as the race reaches its grand climax on the Champs Elysees.
~oOo~