Luxury hotel suites Paris for a serene zen experience
published on 27/08/2013, dans Sezz Paris
Luxury hotel suites Paris
at the glamorous
Hotel Sezz
allow you to experience the very best in contemporary design in a serene, zen like atmosphere. The 13 suites and two exceptional spaces on the 6th and 7th floors of this unique 4 star boutique hotel offer exemplary facilities in a refined and elegant setting.
Luxury hotel suites Paris for a chic and indulgent city break
Hotel Sezz is delighted to offer clients a truly exceptional range of suites where no small feature has been overlooked, and where they can enjoy their stay in the City of Light in peaceful and serene surroundings.
Each suite expertly blends comfort and technology to ensure that your every need is met. Flat screen TV, WiFi, complimentary bathrobes and slippers, Nesspresso machines and more, bearing acclaimed names such as Corian, Driade, Artelano, Boffi, Dornbracht and AV Mazzegga ensure that you'll be in your element at Hotel Sezz.
Each of the 13 fabulous suites of the Hotel Sezz is a wonderful combination of beautiful deep hues which designer Christophe Pillet has used to great effect to visualise and create the ambience of Paris. Dark parquet floors, and chic stone walls illustrate the ambience of the city perfectly, and designer furniture effectively adds to the overall zen atmosphere.
In every single suite the bathrooms are an extension of the room itself and each one is different. The use of semi-transparent screens in some rooms, and the gorgeous slates provide you with the perfect space to relax and rejuvenate body and soul.
On the 6th and 7th floors the Loft Eiffel and the Eiffel Suite, with their remarkable views on the Eiffel Tower and the zinc rooftops of the city, the sumptuous furnishings and design take glamorous luxury living to a whole new level. Treat yourself to the utmost in indulgence with a stay in some of the most exciting contemporary spaces in Paris.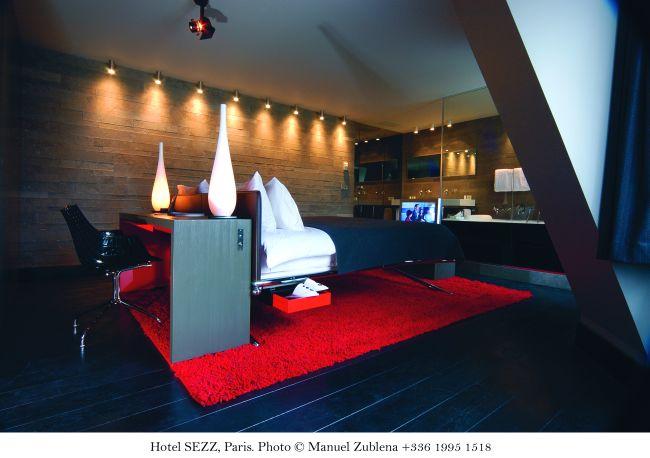 Hotel Sezz is the at the apex of Luxury hotel suites Paris
Hotel Sezz enjoys a wonderful location close to the Eiffel Tower and many of the city's most famous attractions and shopping streets. Our staff will act as your personal assistants to fulfil every requirement you may have during your stay with us. Enjoy a drink in the rose petal shaped alcoves of La Grande Dame, the first Veuve Clicquot™ champagne bar in Paris, or relax in our exclusive spa. We aspire to the total rejuvenation of your mind and body during a stay in the exceptional suites of Hotel Sezz.