Luxury design hotels Paris are a unique concept in style
published on 27/02/2014, dans Sezz Paris
Luxury design hotels Paris
allow you to discover a world where architecture, design and a high level of service combine to create the ambience you desire for a truly special stay. As a member of Design Hotels™,
Hotel Sezz
is the perfect choice for a memorable and satisfying trip to Paris.
Luxury design hotels Paris set the benchmark for service, style and sophistication
Design Hotels™ is so much more than a group of hotels aimed at providing a high level of service to like-minded travellers. Each hotel is the embodiment of an hotelier's personal vision, and is a blend of authentic cultural style, outstanding architecture and design, and a level of hospitality and care that is exceptional.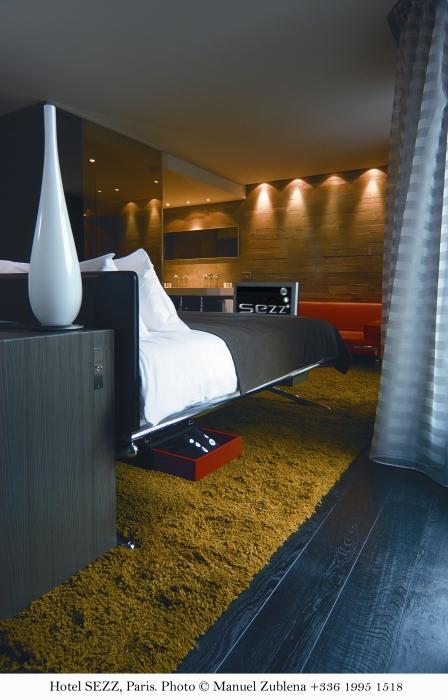 The originality and creativity of the hotel owners makes all the difference and their innovative vision for luxury hotel services means that nothing is left to chance and everything is subtly thought through. From the initial design of the hotel until its opening, the emphasis is on quality of reception and service, enhanced by the unique architectural character of the site.  
Design Hotels™ represents over 250 carefully selected hotels in over 40 countries, and brings their unique 'stories' to a discerning cosmopolitan clientele. A stay in one of these exclusive hotels represents a magical gateway to new experiences in culture, design, style and friendship. Design Hotels™ has created a specific niche which is recognised by demanding travellers throughout the world.
To choose a design hotel is to select something very special, and a hotel certified Design Hotels™ may bring together a specific feature of architecture, design, gastronomy, a distinct style or the perfect location to create a magical haven for guests.
Sezz Paris defines luxury design hotels Paris
The dream of its creator, Shahé Kalaidjian and designed by talented interior designer Christophe Pillet, Hotel Sezz is the ideal illustration of the Design Hotels™ philosophy. From its glorious facade and its elegant interiors, or its unique proximity to the Eiffel Tower, Sezz Paris is all that a design hotel should be.
Hotel Sezz  Paris 

~oOo~