Louis Vuitton Foundation: contemporary art and exceptional architecture
published on 21/02/2016, dans Sezz Paris
If you are staying at the Sezz Paris, chances are that you have a taste for clean lines, the effects of specially selected materials, visual concepts and contemporary art. We invite you to discover the Louis Vuitton Foundation; anchored in the heart of the Bois de Boulogne, its glass construction and unique architecture seem to defy gravity. The foundation houses contemporary art collections, and has a programme of musical and cultural events that appeal to families and children.
The architect and the place
The world-famous architect Frank Gehry lives and works in Los Angeles. His architectural style plays with gravity and challenges our perception with breaks and loopholes that invite us to explore a unique style of visual poetry. The Guggenheim Museum of Bilbao, New York Tower and the Walt Disney Concert Hall in Los Angeles are just some of Frank Gehry's most famous buildings.
For the Louis Vuitton Foundation, the architect imagined a glass building inspired by the Grand Palais and the greenhouses of Palmarium at the Jardin d'acclimatation. Giving the illusion of movement and "earthquake", in the words of the architect, the building evokes tall ship sails that swell in the wind. Twelve translucent glass veils envelope what is called the "iceberg", a succession of organic forms dressed in white ductal concrete and broken down into a series of staggered panels floating on a pool of water. Each different to the next, all sails are supported by an integral framework of steel beams and wood and consist of screen printed glass panels that reflect solar energy.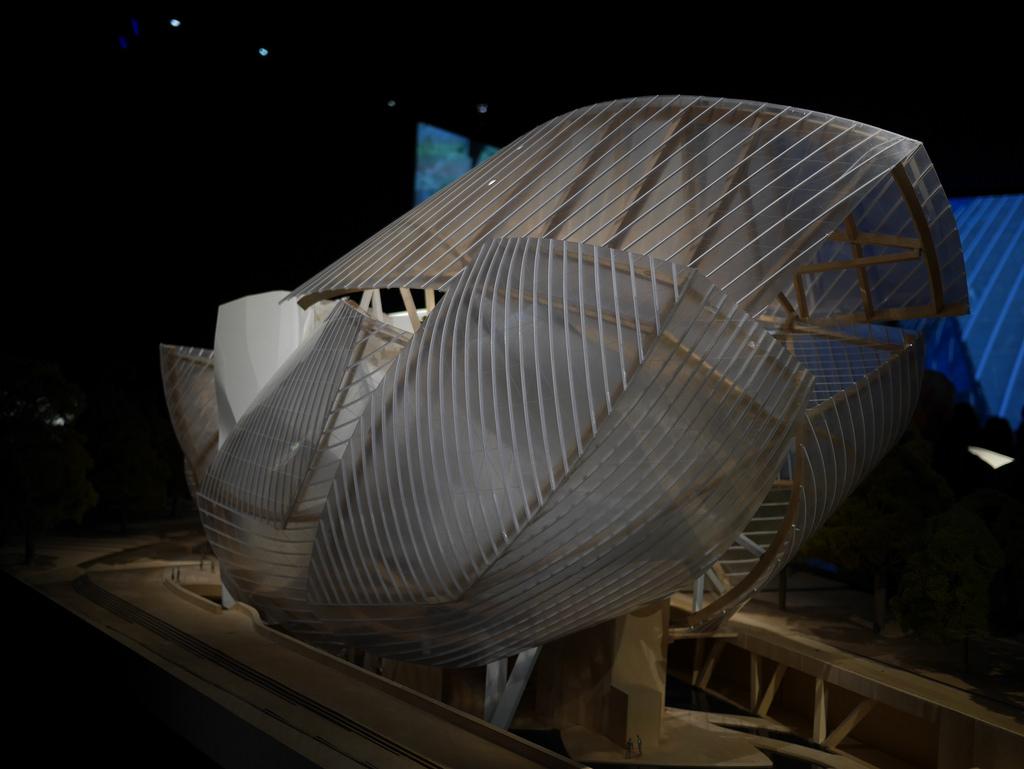 The Foundation Louis Vuitton
The Louis Vuitton Foundation will renew interest in the west of Paris and it aims to make its rich collections of contemporary art accessible to as many people as possible. From January 27th to May 2nd, 2016, the exhibition "Bentu, Chinese artists in the turbulence of change" explores leaders in the Chinese contemporary art scene in China. These artists are inspired by popular culture and express themselves via the Internet and social networks.
You will find a rich musical programme in the Auditorium, a space that is dedicated to interdisciplinary meetings between musicians and artists. The Foundation also offers seminars, performances, workshops and events for children and families. If you want to eat in an exceptional architectural setting, be sure to visit the "Frank" restaurant. Chef Louis Nomicos offers fresh, tasty dishes that combine traditional French cooking with world cuisine in a space enhanced by Frank Gehry fish that seem to float in the air.
Guests at the Sezz Paris will enjoy its excellent location in the 16th arrondissement, at the foot of Bir-Hakeim Bridge and close to the Eiffel Tower. You'll be at the heart of western Paris as promoted by the Louis Vuitton Foundation; you can reach the Bois de Boulogne and the Foundation in minutes to discover exceptional architecture and a demanding and innovative programme of contemporary art.
******
More informations :
Official Website of the Louis Vuitton Foundation
Louis Vuitton Foundation 8 Avenue du Mahatma Gandhi 75116 Paris
---
Sezz Paris, a luxury 5 star design hotel near the Eiffel Tower