Happy New Year 2015!
published on 27/12/2014, dans Sezz Paris
The end of the year is fast approaching, and many joyful celebrations will take place as the old year ends and the
New Year
begins. Why not wake up in a magical setting on the 1st of January and start 2015 in a unique way by planning a trip to Paris? Indulge yourself or spoil your partner or loved ones at
Hotel Sezz
in the heart of the sixteenth district where a sleek design framework assures you of a memorable stay.
Festive Paris
Why not talk a walk to explore the city and discover its many charms? Starting with the chic sixteenth arrondissement of Paris; cross the Trocadero to appreciate its remarkable architecture, stroll along the Champ de Mars, climb to the top of the Eiffel Tower or walk quietly in the Bois de Boulogne.
A few steps from our hotel, you can shop in luxury boutiques in Rue de Passy or the Beaugrenelle mall, or have a good time in one of the many friendly local restaurants, pubs and bars in the area.
Don't miss the beautifully illuminated traditional Christmas market this festive season. In addition to traditional vendors who tempt shoppers with a wide range of festive objects and all types of produce, there will be over forty artisan craftsmen participating in this year's event. Take a ride on the painted wooden horses or over the giant ice rink, on the small Christmas train, or follow Santa on his sleigh, or explore and try some of the many attractions. Embrace the magic of Christmas as delicious scents and the tangy flavour of toffee apples, sweet pancakes, flaky waffles and spiced mulled wine awaken your childhood memories.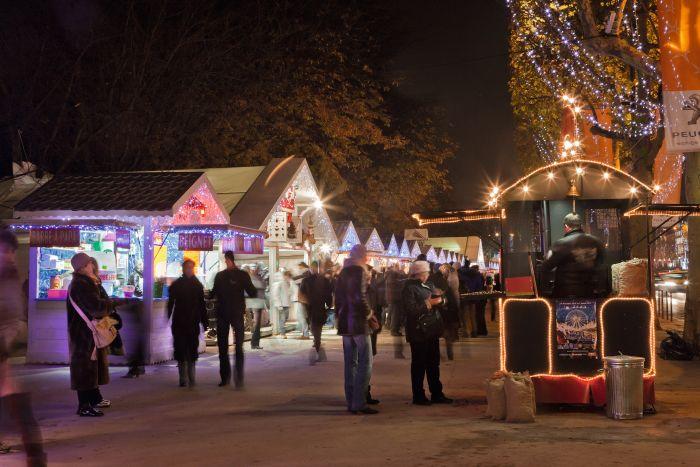 Christmas market at Champs Elysées - Tourist Office Paris - Photographer Amélie Dupont
Best wishes from the Sezz Paris team
Join us in the heart of Paris for a range of exceptional celebrations that will mark the end of the year. The entire team at Hotel Sezz would like to take this opportunity to welcome you and to extend our very best wishes for the coming year. We sincerely hope that 2015 will be a year of success, romance, and creativity for you. Perhaps 2015 will also afford you the opportunity to plan a magnificent Parisian break. Discover and enjoy the many treasures to be found close to the Sezz and in the surrounding districts, and make the most of an exciting calendar of cultural, tourist, sporting, musical and artistic events throughout the coming year.
Happy New Year 2015!
******
•
Rue de Passy
, Paris 16e Metro : Passy, line 6 - La Muette, line 9 •
Beaugrenelle shopping mall
: 12 Rue Linois, Paris 15e Tel. 0033 (0)1 53 95 24 00 Metro: Charles Miches, line 10 - Bir Hakeim, line 6 •
Christmas Village
: November 14 - January 4, Avenue des Champs-Elysées, Paris 8e From Rond-point des Champs-Elysées to the Place de la Concorde Metro : Franklin D. Roosevelt, lines 1, 9 - Concorde, lines 1, 8, 12
~oOo~
Featured picture copyright holder: Tourist Office Paris - Photographer Amélie Dupont