Guest book comments are complimentary to Hotel Sezz
published on 21/03/2014, dans Sezz Paris
Guest book commentsare a wonderful way for guests to share their thoughts, and we would like to extend our thanks to the customers of
Hotel Sezz Paris
who have all expressed their satisfaction and who emphasise the unique points that made their stay so special in
Paris
.
Guest book comments that highlight your experiences at Sezz Paris
Some clients comment on the high level of personal service that they received, even when only staying for one night. Some guests praised the luxurious setting and decor, while other guests thank staff for making a special event such as Valentine's Day unforgettable. Each guest has their own special way of adding comments to the Guestbook, and all are very much appreciated by the management and staff of Sezz Paris.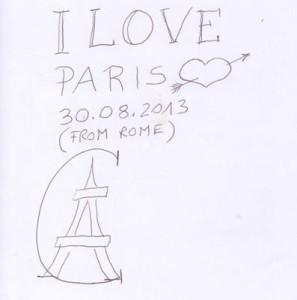 Hotel Sezz Paris guest book comments : the best of...
What a wonderful hotel. Superb friendly staff, beautiful bedrooms and a great location. A lovely location and a special place to celebrate our wedding anniversary. Thank you for our treat too. Joanne and Simon B., England, 15-17 Feb. 2014
Thank you for making our stay in Paris confortable. We had a fantastic trip, made all the more special by the friendly staff @ the Sezz ! Shashi and Amjad H., London, 13-15 Feb. 2014
Thank you "soo" much, We have had the best stay, great location, fabulous room, the staff are incredible, so helpful. Merci, Thank You
Thank you ! Fantastic time – even just one night ! Katherine & Julian - 1/5/2013
We had a lovely stay, very helpful staff recommended restaurant to us which were unique! Thanks, Nilly and Daz, Brighton, UK
Dear Marie and Sandy, Thanks so much for all your help and kindness during our stay. My friend and I enjoyed our time. This is a beautiful hotel with great staff. "Merci beaucoup, Vous êtes très gentile"! Best, Jeff
What a wonderful stay. Truly a great place! All my best, Kellie
~oOo~