For Valentine's Day, enjoy the SEZZ'n Romance Offer
published on 12/01/2015, dans Sezz Paris
Soon it will be
Valentine's Day
and all thoughts turn to love. Let Cupid's arrows strike where they will and mark the day with a truly romantic gesture. Take advantage of the 'SEZZ'n Romance' package, which is available when booking a stay of 2 nights at
Hotel Sezz Paris
. This offer includes accommodation, breakfast for 2 people, rose petals, gourmet macaroons on your arrival, a bottle of sparkling Veuve Clicquot champagne and a "Wanderlust box". Don't hesitate to contact us if you would prefer this exclusive package to be a complete surprise to your loved one.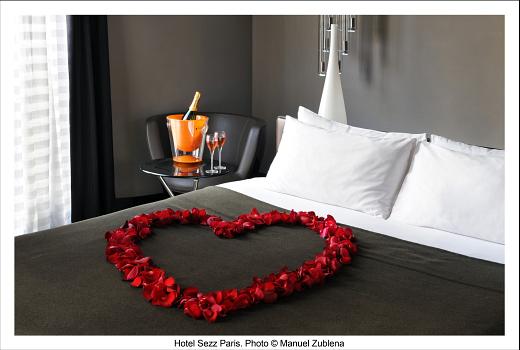 SEZZ'n Romance - Sezz Hotel Paris
Walk both banks of the Seine and see the Pont des Arts
Let the river guide your steps as you enjoy a romantic walk along the Seine from the Louvre to the Pont des Arts through Notre Dame and the Ile Saint-Louis. Time your outing to coincide with the classical concerts that occur regularly and give this romantic walk another dimension when you stop at the Conciergerie and the Sainte Chapelle. Don't forget to take a gastronomic break on the Ile Saint Louis at L'Isle relay. It's perfect for those who appreciate an intimate, jazzy atmosphere and you can sample traditional French cuisine by candlelight as a solo pianist plays a romantic melody in the background.
St-Germain-des-Prés, a myth that still fascinates
An old haunt of intellectuals and philosophers and a centre of cultural life, Saint-Germain-des-Prés was made famous by the Café de Flore and Deux Magots. The district of St-Germain-des-Prés has retained the authentic charm of its old buildings, many of which date from the 17th century, and its intimate streets are conducive to romantic strolls.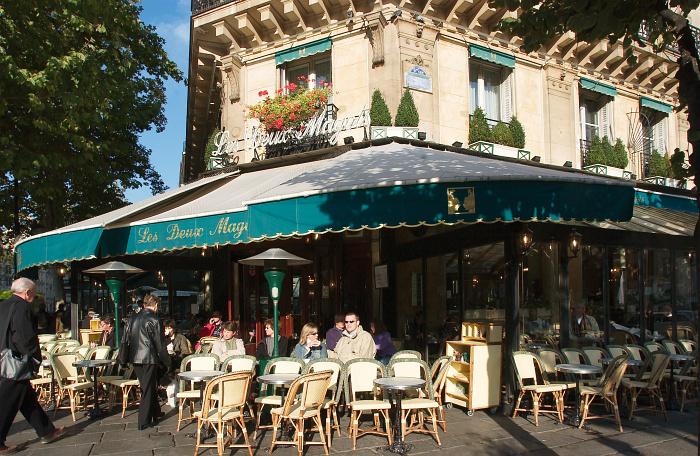 Café Deux Magots at Saint-Germain - Tourist Office Paris - Photographer David Lefranc
Montmartre, Paris Lovers
What place could be more romantic than Montmartre? The picturesque area is dominated by the Basilica of the Sacred Heart on top of the Butte, and is a favourite with artists and lovers from all over the world. You will love the quaint village side of Montmartre with it alleys and its unique atmosphere that is reminiscent of old Paris. Walk down the funicular to discover stunning views over Paris Saint Eleutherius and take the street to the Place du Tertre to find painters and caricaturists who will immortalise you with a few strokes of their charcoal.
What better than the Sezz'n Romance offer for a truly memorable Parisian break? Your Personal Assistant will endeavour to meet your every need, and will assure the complete happiness of you and your loved one.
******
•
Sezz'n Romance offer
•
Café de Flore
, 172 Boulevard Saint-Germain - Paris 6e Tel. 0033 (0)1 45 48 55 26 Metro : Saint-Germain des Prés, line 4 •
Les Deux Magots
, 6 place Saint-Germain-des-Prés - Paris 6e Tel. 0033 (0)1 45 48 55 25 Metro : Saint-Germain des Prés, line 4 •
Basilique du Sacré-Cœur
, 35 Rue du Chevalier de la Barre, Paris 18e Metro : Anvers, line 2 – Pigalle, lines 2-12 – Barbès Rochechouart, lines 2, 4 Funiculaire : Gare Haute
~oOo~
Featured picture copyright holder: Tourist Office Paris - Photographer Yves Klein
---
Sezz Paris, a luxury and design hotel near the Eiffel Tower