Explore Hotel Sezz surroundings in Fremiet Avenue in Paris
published on 27/10/2014, dans Sezz Paris
Hotel Sezz Paris
is located in the 16th arrondissement, a chic and privileged part of the capital. The hotel is at the end of the Bir Hakeim bridge on the right bank of the River Seine, and is close to the Trocadero and the Eiffel Tower. The Sezz is strategically placed, both for business visitors and those who come to discover the many attractions of the city. The hotel is located at 6 avenue
Fremiet
in an elegant Haussmann building designed by the architect Albert Vêque in 1913.
The avenue is named in honour of Emmanuel Fremiet, a French sculptor (1824-1910) and member of the Academy of Fine Arts in 1892. The artist is known for his neoclassical works and numerous sculptures of animals in the naturalistic style. As you walk through Paris you can see some of his creations including an equestrian statue of Joan of Arc at the Place des Pyramides in the 1st arrondissement, the "Dénicheur d'oursons" and "Chasseur attaqué par les orangs-outangs" at the Jardin des Plantes in the 5th arrondissement, and "Pan et les oursons" or "St Michael Slaying the Dragon" at Musée d'Orsay in the 7th arrondissement.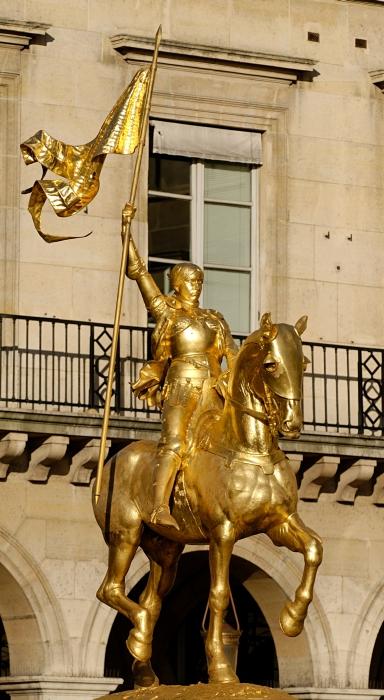 Fremiet - Jeanne d'Arc, Place des pyramides, Paris - Wikimedia cc - Photographer Jastrow
Autumn 2014 – a season of shows and entertainment
Hotel Sezz Paris presents its end of year guide for 2014! Discover the famous dancers of the Crazy Horse, or visit the wonderful review at Mugler Follies. Dine at Bel Canto on cuisine that combines art and lyrical music, at Qui Plume la Lune for fine cuisine in a romantic setting, or at restaurant Akrame where you'll be seduced by the chef's inventive style. Fabulous entertainment awaits you at Quidam by Cirque du Soleil in Paris Bercy from December 2nd to 7th, Disney on Ice at the Zenith from December 10th to 21st and at Retro Temporis, the magical world of illusionist Dani Lary at the Zenith from December 29th to 31st.
The World Gas Conference in 2015, a major event
The 26th World Gas Conference 2015 will be held from 1st to 5th June at Paris, Porte de Versailles. A major event in the gas sector, the conference takes place every two years and many leading players from the gas industry will be present. A top fixture in the world of natural gas, the conference will be attended by 15,000 professionals who represent 600 companies from 100 countries. This year's event will highlight the innovation and skill needed to meet modern energy challenges.
~oOo~
Featured picture copyright holder : wikimedia commons - Photographer Mbzt