Eiffel Tower sparkles in a magical and enchanting display
published on 05/12/2013, dans Sezz Paris
Eiffel Tower sparkles
each evening in an exquisite display of light that thrills and excites all ages. Experience the magic with a room at the glamorous
Hotel Sezz
, especially in one of our two suites with sensational views over this emblematic monument of Paris.
Eiffel Tower sparkles and adds an enchanting aspect to your trip
The Eiffel Tower is the most famous landmark in Paris, and each year thousands of visitors come to admire its beauty. The magic increases after dark when the tower is bathed in golden light. Every hour, on the hour, the tower sparkles as thousands of lights randomly bathe it in shimmering light, and its famous twin beams shine over Paris.
The golden light was first introduced on 31st December 1985, and was created for the tower by lighting engineer, Pierre Bideau. As well as bathing the Eiffel Tower in glamorous golden light each evening, the lamps act as a safety feature at night.
On the stroke of midnight on December 31st 1999, the world discovered the twin beacons and the amazing sparkling lightshow for the first time. This glittering spectacle is made up of 20,000 separate lights, and captivates viewers for 5 minutes at the start of every hour after dark.
There is nowhere better to view the glittering Eiffel Tower in its full glory than Hotel Sezz. As well as a wide range of beautiful rooms, two magnificent suites allow you to relax in luxurious comfort and style. The glamorous 42m sq Eiffel Loft is located on the 5th floor, and the supremely luxurious 70m sq Eiffel Suite is on the 6th and top floor of the hotel. Each offers exclusive views of the sparkling Eiffel Tower.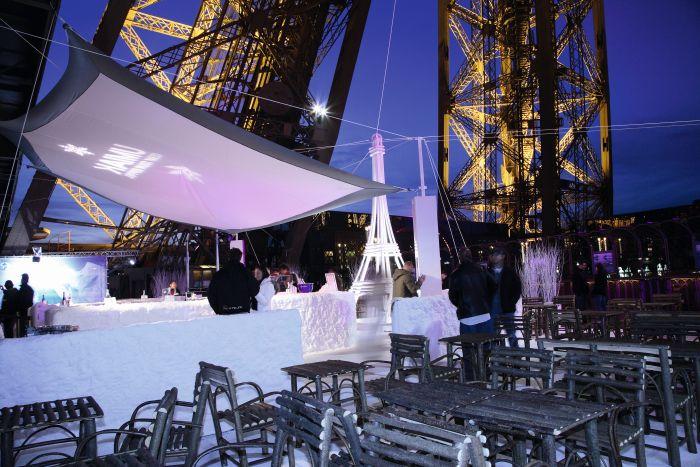 Experience the Eiffel Tower sparkles from the refined luxury of Hotel Sezz
The Hotel Sezz enjoys an exceptional location, just across the Pont de Bir-Hakeim Bridge from the Eiffel Tower, so whether you choose a room or a suite, you can enjoy the nightly lightshow from a privileged viewpoint. The hotel is elegantly decorated throughout, with beautiful Cascais stone, warm wood and luxurious Christophe Pillet Furnishings. Relax in the incomparable comfort of your room or suite, or enjoy a glass of champagne in our exclusive bar La Grande Dame, a fitting complement to the sparkle and glamour of the illuminated Eiffel Tower.
~oOo~