Discover Paris Differently: Unique perspectives on the City
published on 27/07/2014, dans Sezz Paris
Discover Paris differently
by seeing the city from an elevated Metro line, a scenic bus journey or by pedal power, riding a Vélib'. You will find that all three of these modes of transport offer a different perspective on the city, each of which will show you something new.
Ride Through Paris, See the capital in a new way
Paris Metro line 6 is 8.5 miles long, of which 3.8 miles are above the ground on elevated tracks affording fabulous views of the city. Out of the Passy station, close to the Hotel Sezz Paris, the line emerges into the open air and the scenic journey begins. This semi-circular route around the capital's southern reaches runs along the boulevards that follow the lines of the 18th century city walls, allowing views of details of the fine Haussmann era architecture that cannot be discerned from the ground. Best of all, when crossing the Seine via the Pont de Bir Hakeim, you will enjoy a stunning view of the Eiffel Tower.
Bus route 72, running between the Parc de Saint-Cloud and the Hotel de Ville offers what is virtually a rolling tour of Parisian history in around thirty minutes. You will travel along the Seine and view the Louvre, Grand Palais, the Invalides, Palais de Chaillot, Orsay Museum, Eiffel Tower and journey through the superb Place de la Concorde. It's best to position yourself in the direction of travel for the best results, and so you don't miss anything!
However, should you be feeling energetic, then perhaps the best way to see Paris is via the Vélib' bicycle sharing system. For a minimal outlay you get to travel wherever you wish to go in the city and can stop wherever you like to get a closer look at the many places of interest along the way. One of the 1,230 Vélib' stations can be found at 1, rue de Passy, just a few minutes' walk from the Hotel Sezz Paris where, after all that exercise, you can relax amidst our tranquil and aromatic surroundings…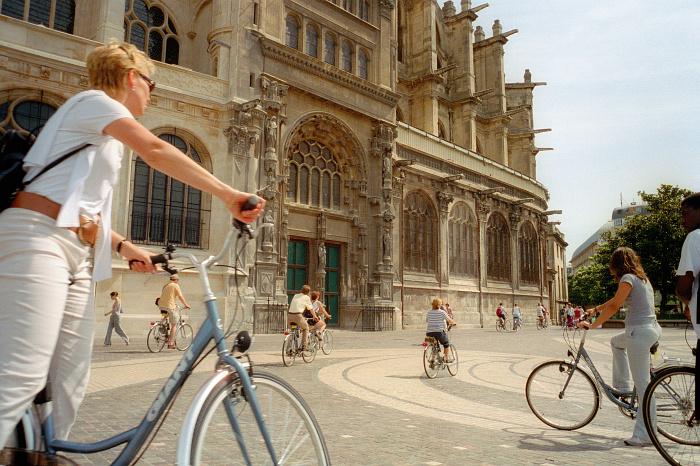 Cyclists in front of Saint-Eustache - Tourist Office Paris - Photographer Amélie Dupont
The Sezz Candle, A creation by Francis Kurkdjian
Francis Kurkdjian is a perfumer of prodigious talent. Over the last twenty years he has been the fastest rising star in the creative fragrance field and today he has acquired an enviable reputation for his supreme mastery of olfactory delights. His bespoke fragrances are highly sought after and so the Hotel Sezz Paris is delighted that he has bestowed upon us the Sezz Candle, an aromatic masterpiece that scents the air of our unique establishment, complementing the unique sensibility we have established. We take pride in offering the finest quality materials and products and Francis Kurkdjian's creation certainly fulfils that aspiration.
~oOo~