Create your perfect private event in Paris
published on 27/03/2015, dans Sezz Paris
The sophisticated ambience of the Hotel Sezz Paris provides an exceptional setting for all of your important occasions and private events. The hotel enjoys an enviable location close to the Eiffel Tower, Trocadero Gardens and Allée des Cygnes, and it is possible to have our bar La Grande Dame by Veuve Clicquot to privatised for your exclusive use.
Private events and special occasions at Hotel Sezz Paris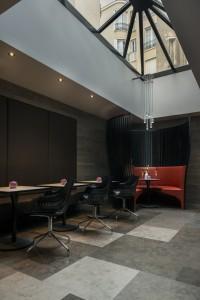 When it comes to celebrating special occasions or marking important moments in your life there is no place like Paris, and there is no venue quite like Hotel Sezz.   The hotel is an inspired choice for special birthdays and anniversaries, and offers a warm and inviting place where you and your guests cantruly relax and enjoy your celebration.
The Sezz is the creation of Shahé Kalaidjian who envisaged a hotel where a high level of personal service removed the traditional barriers between staff and guests.   Now here is this more evident than in our sophisticated bar, La Grande Dame which can be privatised for your exclusive use.  With its elegant shaped alcoves, chic décor and exquisite glass roof, La Grande Dame will impress your family and friends or business colleagues.
The bar is decorated in a creative palette of black, red and grey and lends itself beautifully to parties and celebratory gatherings.  Our friendly team is able to arrange buffet style breakfasts or cocktail receptions on your be half, and your own personal assistant will help you to achieve the event you desire.
Magnificent spaces that can accommodate you for your private event
Every part of the hotel has been beautifully realised in collaboration with top designer Christophe Pillet, providing an unforgettable backdrop to those special moments.
As well as the bar, spaces such as our dedicated meeting room and the glamorous Eiffel Suite offeryou a choice of venues for business and leisureevents. Whether you're celebrating an anniversary, birthday, christening or engagement, the Sezz Paris offers exclusivity, intimacy and elegance.
For more information, visit our page.