Celebrate Christmas in Paris at Sezz Hotel!
published on 27/09/2014, dans Sezz Paris
Whether you're an adult or a child, you can't escape the magic of Christmas when the most beautiful avenue in the world puts on its festive colours, and the Eiffel Tower sparkles with thousands of lights. It's when the most talented chocolatiers compete to create the most spectacular treats, and it's the perfect time to plan a stay at
Hotel Sezz
to enjoy all the enchantment of
Christmas in Paris
.
The magic of Christmas in Paris
The Champs-Elysées, draped in dazzling crystal lights is an emblem of a truly Parisian Christmas. Imagine hearing once again the sound of a barrel organ as it plays the songs of your childhood, the smell of waffles and the vermilion glow of candy apples. You'll find all the sensations that evoke your personal memories right here.
Christmas in Paris is also when department store windows sparkle with thrilling displays full of toys and shiny packages amid beautifully designed sets. As the sun sets, the ice rink at the Hotel de Ville is a Parisian tradition, or you might enjoy a stroll along the banks to the Seine to discover the monuments that are illuminated for the occasion. Huddle together on a riverside bench to take in the romantic atmosphere, watch Paris go by from a garland enhanced café in the Latin Quarter.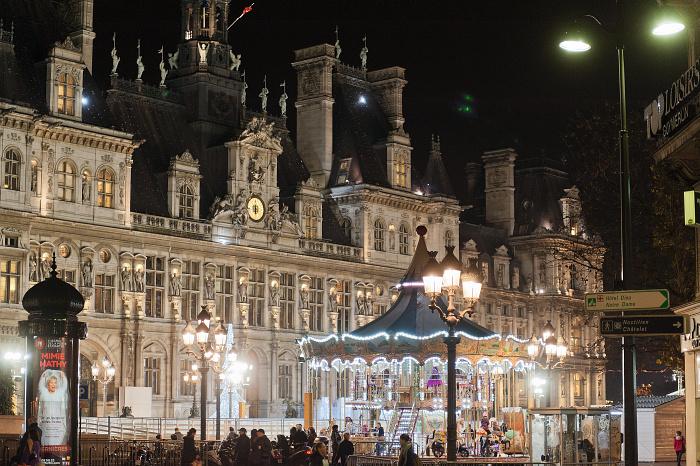 City Hall (Hôtel de Ville) during Christmas 2013 - Paris Tourist Office - Photographer Daniel Thierry
Finally, it's decision time! Which 'Bûche de Noel' will you choose? Whether you prefer a traditional chocolate and buttercream log, a Cornelian, or a fabulous treat created by one of the city's top patisserie chefs or chocolatiers, you're certain to find that perfect one at Christmas in Paris. Meanwhile this wonderful holiday season in the City of Light, the Mondial de l'Automobile is another good reason to make a trip to Paris, and to stay at Hotel Sezz Paris, entirely designed by Christophe Pillet, talented architect.
Enhance your visit to the Paris Motor Show
The Paris Motor Show will take place from October 4th to 19th at Parc des Expositions, Porte de Versailles. Discover new models and classic cars or see the hybrid vehicles of the future from the world's leading manufacturers. Enjoy experiencing concept cars in the test centre or catch some of the shows such as 'The Automobile and Fashion' at the biggest event of its kind.
The Sezz Paris by Christophe Pillet
Internationally recognised designer Christophe Pillet has worked for the most prestigious fashion brands like Prada and Lacoste. His clean, contemporary décor and fine furniture dress dynamic interiors such as lofts and luxury hotels all over the world. The interior design for Hotel Sezz Paris was fully entrusted to the famous designer and he has created a beautiful tribute to Paris that is stamped with his unique character and flair.
~oOo~