Beaugrenelle Sales - your next shopping appointment
published on 20/06/2016, dans Sezz Paris
The summer sales will start in a few days! Sezz Paris is just a few steps from the Beaugrenelle shopping centre - we invite you to make a note on your event calendar and book your room to ensure that you don't miss out on some great shopping trips over the next month. It's a great opportunity to update your wardrobe or treat your family to luxury items at bargain prices.
A shrine to shopping and a luxury setting
Enjoy over 45,000 m2 of shopping and entertainment at the Beaugrenelle centre just steps from the Eiffel Tower in the heart of the 15th district. This stylish centre was renovated in 2013 and welcomes over 18 million visitors each year. The building itself is an architectural feat, its double glass outer shell is covered with a honeycomb of metal mesh where vegetation has taken up residence. As well as shopping in over 120 stores, you can relax in the centre's 14 restaurants, enjoy a visit to a beauty salon. Or, catch a film at the 10 screen multiplex cinema; it's the brainchild of French designer Ora-Ito, who found inspiration for this superb achievement in the world's airports and it is sure to appeal to lovers of the 7th art.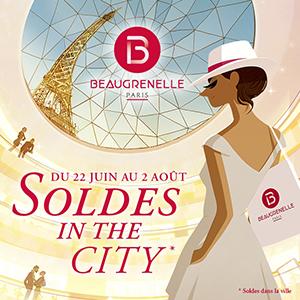 Countdown to the sales at the Beaugrenelle
The summer sales will kick off on June 22nd 2016. We're counting down the days and shops will be looking forward to ringing up those sales right though to August 2nd. This recently renovated mall on the banks of the Seine offers you a magical shopping spree through luxury boutiques, major brands clothing stores, home décor and linens, jewellery and accessories, and games and high-tech outlets. You'll also find terrific buys at favourite stores like Hollister, Guerlain, and The North Face. Shops are open from 10.00 to 21.00 Monday to Saturday and till 22.00 on Thursdays. If you're visiting Paris over the weekend, the centre is also open from 10.00 to 20.00 on Sundays.
---
Sezz Paris, a 4 star luxury and design hotel in Paris