Autumn 2014 – a season of shows and entertainment
published on 12/10/2014, dans Sezz Paris
Discover thrilling
entertainment and shows
that will fill magical autumn evenings with unforgettable moments during your stay at
Hotel Sezz Paris
. The Sezz team is happy to share a few suggestions for your consideration.
Cabarets:
Treat yourself to a fun evening of classy, adult entertainment featuring gorgeous female dancers and original, artistic choreography. The Crazy Horse has been a flagship Parisian venue for over 60 years, and some of the legendary ladies who have graced its stage include Pamela Anderson and Dita von Teese.
Enter a universe where a young girl's dream leads you through an imaginative landscape of acrobatic expertise and erotic costume at Mugler Follies, another iconic temple of fun in the heart of Paris. The creation of designer, Manfred Thierry Mugler, this magical adult themed show is cabaret entertainment at its best.
Restaurants and fine food:
Dine to the sound of beautiful music. The Bel Canto restaurant is an exquisite meeting of art, music and gastronomy, where the repertoire of gifted young artists accompanies fine French cuisine.
Relax in the cosy, romantic ambience of Paris restaurant Qui Plume la Lune. Feast on carefully selected delicacies and superb signature dishes that are the hallmarks of a dedicated and accomplished kitchen.
Young chef Akrame Benallal puts his talent to work in the uninhibited manner that has earned his restaurant two Michelin stars. Simply named Akrame, the restaurant is known for inventive cuisine created from the finest fresh ingredients.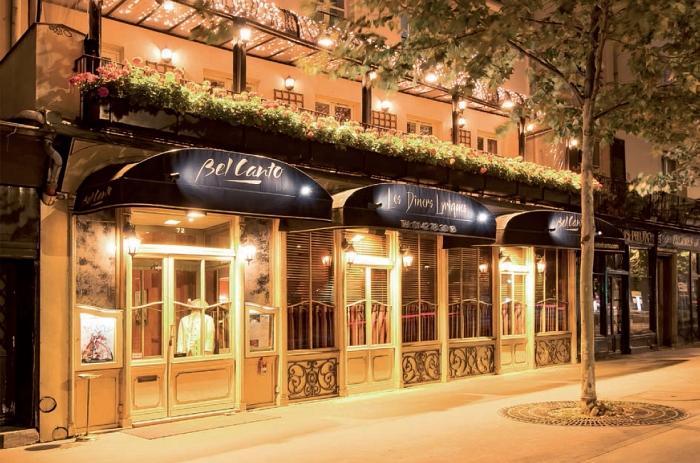 Restaurant Bel Canto - Frontage at Quai de l'Hôtel de Ville
Entertainment for all ages:
Treat the whole family to an amazing evening at Cirque du Soleil where superb show Quidam tells the story of a young girl who finds herself in a fantasy world - at Paris Bercy from 2nd to 7th December 2014.
Join Mickey, Minnie and a cast of over 60 characters at Disney on Ice at Zenith, Paris from 10th to 21st December 2014. This fabulous entertainment extravaganza will delight both young and old, and is the perfect pre-Christmas outing.
Zenith is also the venue for a fantastic new show by top illusionist Dani Lary from 29th to 31st December 2014. Retro Temporis is inspired by the incredible imagination of Jules Verne and combines amazing scenery with the inventiveness of Steampunk and the magic of the Belle-Epoque.
******
Crazy Horse, 12 avenue George V, Paris 8e Tel. 0033 (0)1 47 23 32 32
Mugler Follies: Le Comédia, 4 boulevard de Strasbourg, Paris 10e Tel. 0033 (0)9 83 75 37 08
Restaurant Bel Canto: 72 Quai de l'Hôtel de ville, Paris 4e Tel. 0033 (0)1 0 42 78 30 18
Restaurant Qui Plume la Lune: 50 Rue Amelot, Paris 11e Tel. 0033 (0)1 48 07 45 48
Restaurant Akramé: 19, rue Lauriston, Paris 16e Tel. 0033 (0)1 40 67 11 16
Quidam, Cirque du Soleil: December 2-7, 2014 Bercy Arena : 8 Boulevard de Bercy, 75012 Paris
Disney sur Glace: December 10-21, 2014 Le Zénith, 211 Avenue Jean Jaurès, Paris 19e
Dani Lary: December 29-31, 2014 Le Zénith, 211 Avenue Jean Jaurès, Paris 19e
~oOo~